Less artificial, more human with AI virtual assistants
With NLP (Natural Language Processing) trained chatbots, capture user sentiments while delivering apt and accurate responses. We help bots learn from conversational data to become more efficient and relatable. Build the best of customer relations with conversations that are meaningful.
Speak the language of your customers
Can your current bot communicate in more than a dozen languages? Ours can! Enhance customer experiences with chatbots built and trained by Knowmax, that use and converse in the languages convenient to your target audience. Our bot can adapt to phrases and speech, thereby eliminating language barriers.
Smarter, better, quicker resolutions
Knowmax's AI-powered framework structures and answers using the content from your knowledge base, to deliver the most appropriate and contextual responses in no time. Enable your customers to experience seamless self-service with virtual assistants that work for you.
Supporting CX teams with AI chatbots
An intelligent virtual assistant can resolve customer tickets as fast as a human support agent can. Assist your support teams to handle seamless interactions. Not only do support agents have time for more complex interactions, but your operational expenses also come down a notch.
Definitive responses, happier customers
Knowmax has features like decision trees, predictive search and visual guides that promote findability of the content. These features can be integrated with bot, for your brand to deliver apt responses, as and when needed. With canned responses, ensure consistency in all digital customer interactions.
A bot that earns for you
With great training, comes greater efficiency. Train your bot to engage with prospective buyers and help customers proactively. From generating business leads, to up-selling and cross-selling your range of products and services; bots powered by AI can do it all.
What Our Customers Say

Knowmax, a Knowledge Management Platform has expanded our capabilities in terms of communication, information accessibility, and knowledge sharing about products and services with our end customers through digital and assisted channels using Picture Guides for pictorial support regarding various use cases, and their Al based knowledge base, becoming brain to our Chatbot "Saeed". This helps over 120 Contact Center Agents as well as our customers on Mobile App, ChatBot & Website engage with our brand regularly; pushing us closer towards our goal of going digital.
Turki Al-Farsi
Senior Manager-Process & Project Management

Exactly what we needed!! Completely understood our problem and provided a service that complemented our business perfectly.
Graham Duffy
Senior Operations Manager

Knowmax is an easy to build & maintain omni-channel customer experience platform. Our contact center agents found the decision tree navigation to be seamless making it to comprehend on a single page. Real time analytics helped us understand productivity & quality of our agents. Their customer success team was proactive and helped us during our on-boarding and later for on-going support. This has helped us in reducing AHT and drive Self-Service at NestAway.
Chirag Heda
Head of CX

Working with Knowmax has been an easy and hassle free experience. We got the solution which catered to all our requirements and the implementation was very quick! Special thanks to the team for being available for query resolution and support whenever needed!!
Manya Sharma
Product Manager, Milaap

Knowmax is the Device Knowledge Management Solution that Celcom has adopted. The Unique feature set for Picture guides, effortlessly complement its vast repositories of device information. Our customers have used this self-help tool extensively to solve their queries as Knowmax is integrated with our Celcom Life App, reducing the volume of tickets for our CX teams. Knowmax's robust functionality and the ease with which we were able to generate user reports have set this platform at an advantage over its competition.
Noorazimi Jamari
Journey & GTM, Customer Experience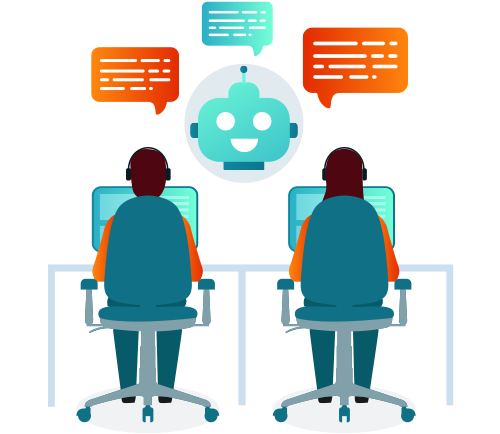 How are AI chatbots helping in customer service?
Artificial intelligence has opened doors for enterprises to automate processes & increase real-time interactions through virtual assistants. AI chatbot, as the perfect specimen of self-service, is paving a tech-driven way for businesses to digitally handle customers' queries. Being a powerful digital tool, chatbots are helpful for customers who want faster responses to their questions & for agents to provide instant solutions.
Numbers that make us proud & our clients profitable
90%
Call quality at
contact center
73%
Successful chatbot
interactions
12%
Improvement in call
documentation
6 Months
ROI achieved &
savings post that
Our expertise in industry driven framework