Knowledge Management is the backbone of a successful CX strategy. In this webinar, we've discussed how to effectively manage large scale contact center operations as well as what are the methods to deflect tickets via customer self service. Our experts have shared examples where millions of dollars can be saved while you improve customer experience.
Explore how to measure ROI with quantifiable business metrics that help you find value in your knowledge management initiatives. Looking at how COVID 19 has changed the way we work; we've also discussed how to empower remote agents & support teams and steps to deliver a razor-sharp experience across assisted & digital channels taking an omni-channel approach.
Increasing customer expectations unmatched by customer support.
Inconsistent customer experience owing to lack of multi-channel support and lack inefficiency of the support agents
Rajiv Ramanan, Global partnerships Head, Freshworks–
The COVID-19 pandemic is a unique situation for a working environment with no playbooks to refer to. The contact center agents are finding difficulty working remotely despite having the office dashboard at home. This is because the single biggest advantage of contact centers is that people get to collaborate and generate solutions. While many businesses have taken a hit; E-commerce, Banking, Healthcare, and Digital Wallets have seen a rise in their services. Customers are now demanding support with respect to these online services.
Each enterprise has been evolving to cater to customer service requirements and is setting up online platforms. However, there is no 'right' platform because businesses and their requirements are widespread. In times like these, not having a benchmark platform that provides support, leads to inconsistent but not to improve customer experience.
Omni-Channel support
Customers are reaching out for support using various channels like a businesses' social media platforms, e-mails, online chat and even so calling the customer support is available. It is indispensable for enterprises to adapt to this and provide 'Omni-Channel' support. Limiting agents to a single channel is a rule of the past and they need to be spread out to extend multi-channel support.
Personalisation
It is important to have contextual information about the customers to add a touch of 'personalisation' to the service. Improve Customer experience by making customers feel special and this is only possible after taking a 360-degree view on the customer. Alternatively, agents also need to be proactive in providing service. If the agents reach out to the customers before they contact the agents, this makes the customers believe that the business is well-aware. Being pro-active can reduce the possibility of more customer queries and enhance their experience.
Self-service
Extending self-service by providing support channels enables customers to resolve their own issues. It will help in deflecting L1 service tickets towards self-support channels which in turn will allow the agents to deal with critical issues and other complex problems.
CHALLENGE 2: Knowledge findability accompanied by a non-actionable knowledge base. Lack of correct information leading to high agent error.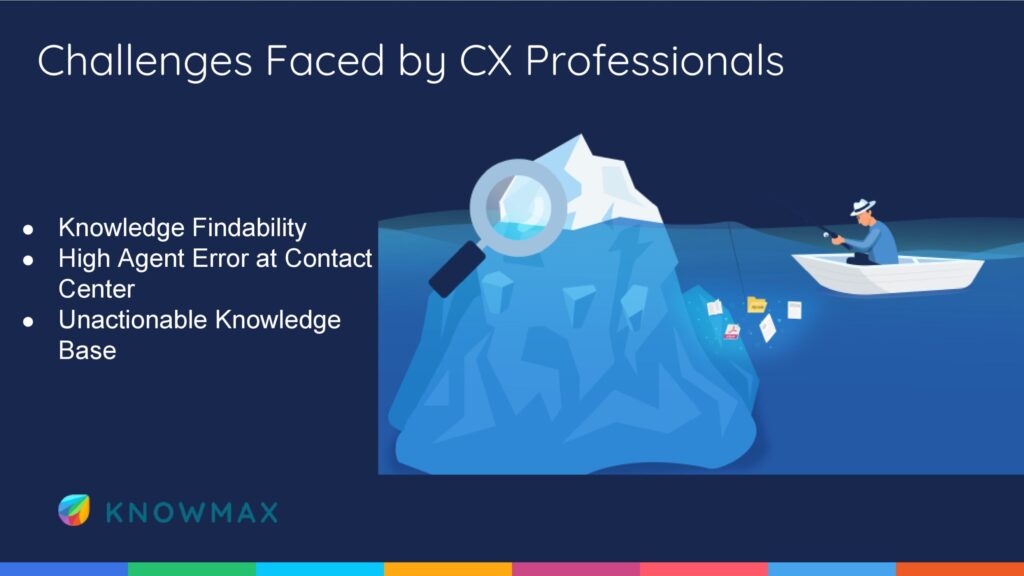 Pratik Salia, Product Lead, Knowmax-
The information is present in abundance which makes it difficult to navigate the right information at the right time. With the workspace becoming remote, lack of findability of knowledge results in high agent errors. The agents are also not aware of their next best actions as there is no supervisor to consult to, and the knowledge is extremely widespread.
Taking this forward, John Coles KM Consultant & Thought Leader recalls from his experience that CX stems from customer productivity.
Simply explained, it is how well a customer understands the solution and moves ahead with it refraining from making repeated calls. To overcome inconsistent experience, it is important to maintain consistency in solutions across all support channels. This will increase customer confidence in the brand and also ensure their longevity with the business.
He also identifies 'how to effectively do self-service' as a challenge which is addressed later on.
Pratik to John,
"Why does a business need a Knowledge Base?"
John-
Knowledge base acts as a single source of information. Integrating knowledge required by different channels on one platform reduces redundancy of information and holds the knowledge in its truest form. This increases the productivity of agents as findability gets easy. It also enhances self service for customers and results in a consistent experience.
Pratik to Rajiv,
"How does an integrated knowledge base make Customer Relationship Management (CRM) powerful?"
Rajiv-
Integrating CRM and help desks with a knowledge base helps agents give contextual answers to the customers. It generates a top-line impact with improvement in productivity and bottom-line impact with improvement in customer satisfaction. A unique characteristic of knowledge base is that it is distributed and made available to agents at the point of interaction. When a customer raises a ticket, the knowledge base provides information in the context of the required interaction.
With the advent of artificial intelligence and machine learning, a lot of deflections are happening with customers accessing the information online. This makes it important for the knowledge base to be updated accurately so that it generates operational efficiency.
Knowledge base allows a customer to leave stored feedback. This makes sure that the feedback goes to the admin and is acted upon. Feedbacks help the business overcome any inefficiencies related to ease of use and access to information.
CHALLENGE 3: There a lot of operational expenses associated with CX like field visits, L2, and L3 level training among many. Optimization of these costs while maintaining the CX standard poses a challenge.
Pratik to John,
"Cost is important to be factored in with CX. How does one optimise costs while ensuring a consistent customer experience?"
John,
answers this using the 'Shift-left' model. The objective of this model is to shift the answers and information closer to the customers. It starts with measuring parameters namely escalations, dispatches, repeat dispatches, and first contact resolutions. This gives an overview of the field of how productive your customer base is. After the field analysis, the results are balanced with knowledge management metrics to drive productivity. This shift brings about a challenge in terms of culture. Agents need to adapt to using a knowledge base which is why it should be user friendly. The agents should be trained on its usage to transform from being a researcher to the publisher of a knowledge base.
CHALLENGE 4: Integrating an Omni channel knowledge base.
Pratik to John–
"With regards to the Integrated Omnichannel knowledge base, how to ensure adoption and re-usage of content?"
John,
The key to the adoption of knowledge is how customers 'reuse' the knowledge.
The knowledge management platform should be able to hold content that is findable by making use of AI to organize information and make navigation easy. KM tools should have roles and responsibilities clearly defined along with proper reporting.
Performance on a knowledge management platform is driven by-
KM coaching and training
KM recognition
KM communication
Performance sits on top of the platform and productivity is driven by analytics and reporting. Continuous improvement at each stage is desirable by identifying gaps if any in the knowledge base.
It is important to have KM governance and communities of practice to drive work and communication. Also, the agents should be communicated about the leadership's vision and mission around a knowledge-centric type environment. These practices along with 'reuse of information' will result in good ROI and change in culture.
Pratik to Rajiv–
"Tell us about the workflow set up for self-service"
Rajiv-
To set up self service, a business should leverage the knowledge that customers acquire. When knowledge is stored in standardized formats, your search is able to understand the context of the information. Agents do not have to decode or filter elements and can get the results easily.
As a ticket is raised, knowledge base can prefetch the solutions to the ticket. To this, agents can add more relevant information and send it across to the customers within seconds.
If the knowledge management platform is well equipped to identify correct context, full fledged automation can take place. This can run users through self service options like chat, e-mail, voice assistance among others.
It is important to note that AI engines should be interconnected with knowledge base as well as the company's transactional systems.
This brings us to three important steps that KM can enable:
Elimination using smart analytics.
Automation driven by AI.
Optimisation by generating pro-active results; by cross-selling and up-selling.
John,
Let's look at Knowledge Management's impact on ROI by taking into consideration a few important metrics. What we noticed in our business that integrating a KM platform helped with:
Improvement in accurate resolutions by 10-30%
Reduction in ticket deflection by 30%
Reduction in agent errors by 60%
Reduction in escalations by 90%.
Apart from these, it also gave our agents more confidence in dealing with customer support.
Before wrapping up,
Moderator–
"How knowledge management tools can be implemented during the COVID-19 situation?"
John- A comprehensive knowledge base allows to work remotely with ease. There is no concept of customer wait-time while working virtually., therefore knowledge base helps to generate accurate and fast responses.
Pratik– Knowledge management tools help with the onboarding of agents and reduces the virtual training time. It ensures the right flow of information and transforms this information intuitively.
Rajiv– KM tool enhances the ability of the company to provide a consistent experience to customers. Taking an example in the current situation, Freshworks managed to integrate a COVID help desk for doctors and healthcare professionals. They have been able to help by referring to different articles and with bots serving customers alongside.
This is an example in the truest form of how knowledge management with strong automation can provide enhanced CX