With tons of information of different sorts including policies, loan schemes, interest fluctuations, credit card offers, and more; it becomes vital to have a unified source of information. A banking knowledge management platform allows you to update all this information in a secured repository and making it readily available for agents at contact centers as well as customers on your self service channels.
Banking Knowledge Management Process
Money doesn't grow on trees, neither does CX
Be it a bank or fintech or lending aggregator; the financial world is fast moving and consumers start ranting if not immediately switch their financial institutions if they feel not answered to their queries. The never ending infusion of knowledge in the financial world makes it difficult to manage especially for agents when they've to be worried about security as well as managing higher CX standards for today's digital consumer.
Some of the CX challenges faced by financial industry
Long queues at contact center
With your agent having too many calls scheduled, the agent quality is considerably affected resulting in a frustrated consumer.
Higher Handle & Hold Time
An agent at times might have to search from a vast and complicated knowledge base. This increases the handle and hold time.
Security Breach by Agents
The account information is highly confidential. A good knowledge management system restricts accessibility & sharing of knowledge.
Ineffective Self Service
When the platforms for self service are not properly supported with a robust knowledge base, it results in an unsatisfied customer.
Incorrect Information Delivery
Finance sector updates every moment and notification delayed in such a volatile market is always unwelcomed thus requiring correct information
Our knowledge management portfolio for banking & financial services
Single source of complete organizational data
Consistency across contact centers, branches & digital
Update regulatory data and distribute immediately
Drive digital CX for customers as well as agents
Our modules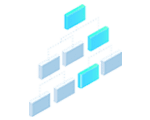 Decision Trees
Interactive decision tree software resolves complex queries and simplifies customer interactions through a series of questions accompanied by multi-choice type answers. This streamlined technical process for support teams and customers has a step-by-step intuitive workflow.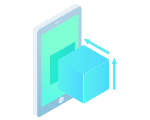 Knowledge Base
A ready repository of the organization's knowledge can be created, filtered, updated, and accessed by the creator. The assignment of duties and responsibilities can easily be defined by the admin of the knowledge base. Since the knowledge uploaded is delivered on all touch-points, it is checked and approved by admin and super admin respectively.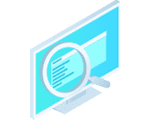 Picture Guides
It is the visual assistance that agents need while handling complex customer interactions. Picture guides ensures best for agents and users by allowing faster and efficient resolutions using images as a better tool as compared to words.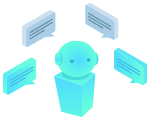 Chatbots
With Artificial Intelligence on your side, build virtual assistants for customer engagement. AI Chatbots are more efficient and reliable to enrich digital experiences and power human-like exchanges between customers and your services. Chatbots, intelligent enough to pose as humans, allow customers to get right aid at right time.
Benefits For
Agents
In a highly dynamic environment as that of finance, the operating forces are strong are require a specialized hand in the same. When a robust knowledge base is a given, the struggle for better performance no more remains a pressure.
Easy findability
Reduction in error rate
Reduce task multiplication
Customers
With self service enablement, it becomes feasible for the customers to decide the mode of help. Customers feel privileged when given an option to choose from and what better than freedom from call center ring tones.
Access information anytime
Avoid long hold & call queues
Digital Adoption of services
Operations Supervisor
Role of operations supervisor is of inevitable importance as well. The query pertaining to a financial problem involves a lot of brainstorming resulting in an impatient caller. This caller if lost here, will be a customer lost from sale counter too.
Lower AHT & Hold Times
Achieve SLAs
More productive agents
Training & Quality
Onboarding of agents, in reality is one of the most crucial parts of recruitment. Agents with good communication skills are trained in accordance with organization's workflow and knowledge aiming to achieve an even higher level of C-SAT & CX.
Faster training & on-boarding
Simplified feedback mechanism
Training & assessments for process knowledge
Digital Teams
Majorly responsible for digital transformation of a company backed by robust strategy and planning; an engaging and interactive website or app can reap conversions if it's friendly and compatible enough for the search engine to crawl through.
Drive digital transformation
Promote self service apps & website
Monetize through digital channels
CX Heads
Consumers can reach out to you through app, website, bot, WhatsApp, social media, text, and call 24×7. Any loophole evident results in degradation of CX and NPS. It is thus essential to prevent any decrease in agent efficiency, learning, and quality.
Achieve CSAT & NPS scores
Reduce OPEX at contact centers
Increase overall brand loyalty
Our expertise in industry driven framework
Trusted by












Case Studies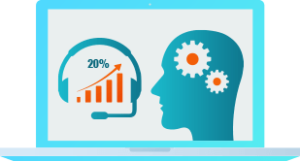 20% improvement in call resolution delivery of a leading Fintech startup
Oxigen is one of the major payment solutions providers in India. Their solution enable customers to make mobile/DTH recharges, quick money transfers, utility bill payments, facilitating 600 million transactions per year.
20%
Improvement in Call Resolution
100%
Tagging Compliance Achieved
35 Seconds
AHT Reduced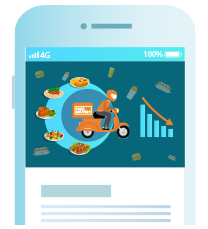 15% reduction in AHT for a leading online Food Delivery app through Knowmax
Our client is an online food delivery service provider launched in 2014 operating in more than 65 cities & have 9000+ restaurants on its platform. They make seamless co-ordination between customers & restaurants while aiming to provide stellar services to urban foodies & working professionals.
15%
AHT Reduced
10%
C-Sat Increased
89% to 92%
CQ Score Enhanced in 3 Months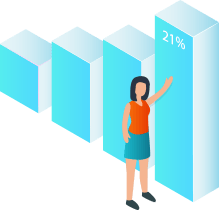 21% improvement in FCR with Knowmax for leading Telco
Our client is the credible mobile network operator in Indian telecommunication industry. It owns spectrum in 1800 MHz band, across 7 telecom circle areas in the country. The company's key product offerings include 2G, 3G and 4G services with enterprise services including national & international long distance call services.
90%
Call Quality Achieved
21%
Improvement in FCR Accuracy
30.5 Million
Hits on our Platform
Integrations with tools that you choose
Explore integrations that make your day-to-day workflow more efficient and familiar.





3rd Party
Applications

Custom CRM

Chatbots

OMS Platform
About the Client
Get Complete Case Study
Key Takeways: