Time And Cost Saving Benefits Of Decision Trees
Posted On: May 7, 2020 | 7 mins read

532 Views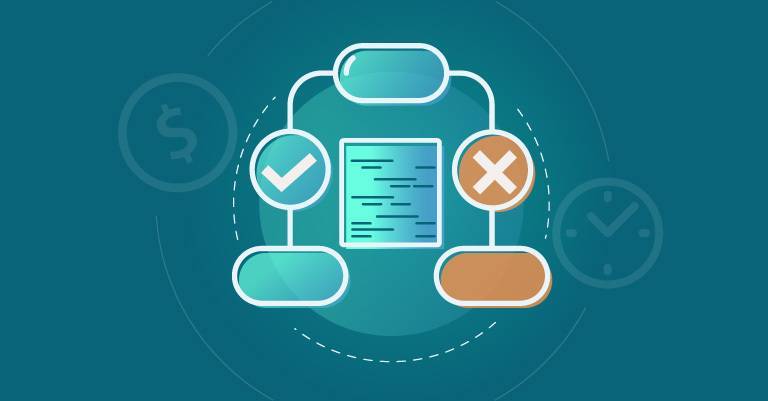 Customer service, the backbone to any organization assists in providing before, during, and after-sales services round the clock. Support agents serve as one of the consumer touchpoints and record data about how often customers contacts, the channels they use, and what they enquire about. This enables the business to strategize by setting the right goals. These strategies make use of various support tools and dedicated manpower to drive customer service. One such support tool is the Decision Trees. The benefits of decision trees extend to an overall enhanced customer experience which is reflected in improved Customer Satisfaction Score (CSAT), Net Promoter Score (NPS), and First Call Resolutions (FCRs).
What are Decision Trees?
The customer-first mindset across the organization makes the support agents provide better service. When customer-centric solutions exist in place, the support teams do not have to make any and they can simply focus on delivering those solutions. One such solution is a simple visual tool called the Decision Tree. It is a structural graph in the form of a tree which starts with a particular decision or query. This is followed by questions and possible consequences with pre-defined responses to them. Decision trees follow a sequence wherein the top node states the query branching into possible user responses, based on which it further branches into questions i.e. sub-nodes with their respective responses. The tree terminates at a node when the solution is arrived at or when it cannot be further broken down.
Benefits of Decision Trees
According to a survey by American Express, 62% of respondents said that their recent positive customer experiences were owing in part to the service representative's knowledge and resourcefulness in addition to how he/she was as a representative. To help representatives make decisions on their feet, the knowledge presented in the form of decision trees can render extremely useful because of the following benefits:
Comprehensive
It is a step-by-step graphical approach which works on possible outcomes of a problem. Each outcome is identified which branches into further analysis and the decision tree traces different paths to their conclusions. In this manner, it helps prepare a comprehensive yet easy to understand analysis.
Versatile
A number of problems and queries can be solved with the help of decision trees. In addition to that, both numerical and variable data can be entered into a decision tree which makes it useful for substantiating information. An organization that integrates a Decision tree software in its systems can streamline many customer problems.
Easy navigation
Presenting data in a decision tree makes its navigation simpler because each tree features a unique decision. It can be easily searched for as a single point containing relevant data. With specific solutions, decision trees clear up ambiguity and allow the agents to generate quick resolutions.
Reduces Average Handle Time
AHT measures the average time taken to handle a particular call from the beginning to the very end until a resolution is provided. Because decision trees are stored as a guided explanation, it makes the agent deliver solutions quickly which reduces the AHT.
How Decision tree helps train agents?
Decision trees not only help with customer service but also serve as a training tool for the support staff. In a report by SHRM, the graphical question and response pattern can reduce the on-boarding time of new agents by up to 80%. The benefit also extends to experienced agents, because they can focus on delivering solutions with a ready resource at hand. Added features like videos and images can be added to display information at each step in an interactive manner. Besides, decision trees can also be used to generate situational training with each tree simulating different situations in a structured manner. Housing training guides in lengthy documents make understanding this knowledge cumbersome. However, decision trees guide agents in a friendly and time-saving manner.
How do Decision Trees help in cost reduction?
Businesses focus on cost optimization as much as they focus on profit maximization. As customer service becomes increasingly important the operational expenses associated with it also rise. The interactive customer support offered by decision trees helps in saving on these finances. They can reduce the back and forth communication with the customer and result in First Call Resolutions (FCR). Increased FCRs can reduce the number of calls and potentially bring down the overall cost.
In another alternative, Decision trees also function as a self-service tool allowing customers to troubleshoot problems by themselves. By providing this automated support, the employee expenses can also shrink since a smaller support team would be required. This custom self-service option can eliminate the outsourcing requirement of the customer service department and save on the associated costs. Fewer the support tickets, lesser is the time spent on them, more is the saving on account of customer service costs.
Conclusion
Decision trees can be better looked at as robust FAQs that give high accuracy, stability and are adaptable to solving any kind of query. By their structure, they give the flexibility to record data intuitively as per business needs. With implementing a customer-service process that is easy to understand, easy to use, and easy to access; time and money-saving benefits of decision trees will naturally follow.
Choose Knowmax as your platform of choice for integrating an Interactive Decision Tree software which will help your organization provide a consistently enhanced customer experience.
Categories: