1. Introduction
The introduction of KMS in any organization brings new hope. A fresh start in organizational culture is one of the exciting possibilities. The journey an organization takes with its knowledge management system significantly impacts business in the long run.
Knowledge is of no value unless it's put into practice. Organizational knowledge needs to flow in a cycle across departments systematically. Creation, curation, and dissemination of knowledge are essential for any organization whose practices are rarely discussed.
Practice, in reality, translates to a culture of knowledge sharing. Suppose we compare knowledge management as a practice to that of a sport. A football player buying good equipment does not mean the player will become professional. The same goes for knowledge management software and its usage.
Efficient creation, curation, and dissemination of knowledge is the bedrock of a successful Knowledge management project, whose practices are often so little talked about. This whitepaper will explore KM's best practices to implement a knowledge management platform and amalgamate it with current business processes. This guide helps knowledge creators and users navigate the proper usage of the platform for the highest level of optimization.
2. How to adopt Knowledge Management: The 5D framework
A 5D framework is the best way to approach the Knowledge Management implementation process from start to finish.
If Knowledge Management were a marathon, think of the 5D approach as the preparation and the pit stops along the way to reach the end goal. If one properly trains and participates in a marathon, they're more likely to achieve set goals than those who didn't plan and practice ahead in time. The example here perfectly matches what the organization should do with implementing a knowledge management platform. As emphasized in the introduction, knowledge management is a culture built through the approach in the form of established practices.
2.1. What exactly is the 5D framework?
A 5D framework is a linear approach to implementing a knowledge management platform phase-wise. This approach is highly constructive for first-time adopters to grab onto the practices that have helped successful adoption practices at various other organizations that have implemented knowledge management as a practice. We will explore each step in detail as we sift through this document.
Knowledge Management Checklist 2022
We have carefully researched and compiled the must-have features of an enterprise-grade scalable and relevant knowledge base.
2.2. An overview of the 5D approach:
3. Five Things to do Before Building a KMS
All organizations should firmly practice the GIGO principle when building their knowledge management system. The GIGO principle or the Garbage In, Garbage Out principle runs on the theory that the results are mediocre when you put in mediocre inputs. But when you put in quality inputs, the output will be of desired quality.
So, before immediately creating another dump of content on the new knowledge creation platform, stop and take a moment. Analyze what you need to start building a high-performing KMS.
Following are tips on how to identify all the gaps for quality inputs that create quality outputs :
3.1.
Make a list of all pain points
What are the organization's overall pain points and individual departments or teams' pain points?
What are the current data silos and level of transparency?
Are internal teams able to access actionable and contextual information when they need it?
3.2.
Compile and filter existing content
Is there any presence of knowledge hoarding? Is there knowledge hoarding or data silos at the organization?
Are there multiple versions of the same content?
What is all the content that needs to be migrated onto the KMS?
3.3.
Review KPIs and goals
What are the current KPIs? Do they align with current KMS practices?
What other measuring methods are used at the organization and are they appropriate to measure success?
What are some new metrics that are going to be added with the incoming of the KMS?
What are the goals the organization has set for the optimization strategy?
3.4.
Review the SOP structures
Some problems can be crucial internal problems like existing SOP structures.
To review SOP structures, this approach may be followed:

Is there a well-defined framework and structure for SOPs?
Are the SOPs made and approved by the same person?
3.5. Visualize how to bridge the gap through knowledge management
Has there been a review of all the steps above?
Is each problem matched with the best possible solution?
What new exercises can be implemented for better team transparency?
Is the planning aligned for optimal utilization of the platform?
4. How to begin building the KM system?
The most crucial aspect to focus on to start building the KMS is to have the right resources and a vision in mind. The resources here refer to all the content that will go on to build a functional knowledge management system. And the vision refers to how the right resources are allocated at the right places at the correct time for the ideal optimization of the knowledge base management system.
4.1. Match suited knowledge management solutions to solve problems
The KM system has various solutions, but what representation best suits organizational content needs? For that, there needs to be retrospection on:
Is all content up to date and ready for migration?
Does the content need visual guidance?
Is the content part of the decision-making process with multiple possible answers?
Is it the content piece that a customer frequently asks of you?
That being said, internal teams know the organization the best, so consider all the end-users, especially all support teams.
4.2. Establish a knowledge-sharing culture
Whether the organization has a healthy knowledge-sharing practice or is just implementing it, make sure to look at the advancements a knowledge management software will bring to the organization.
4.2.1 Things to ponder upon
What will the organizations look like with a new platform in place?
What will the revamped knowledge-sharing culture look like, and what is the roadmap to achieve it?
Any practice cannot be built overnight; it takes many habits over time to inculcate. The best way to go about knowledge-sharing culture is to introduce new practices and overrule redundant practices.
4.3. Assign a KM Owner & Knowledge creators
Knowledge management implementation is quite some responsibility, requiring a team of experts to build it. Be it a team or a person, a product owner needs to be assigned to take up all knowledge management projects. A ratio of 200:1, as in 200 users to 1 knowledge creator, is recommended while assigning roles for the KMS function.
4.3.1 What is the role of the KM owner?
The primary responsibility of the KM owner is to take total ownership of all functions of the KMS. Managing the project end to end, from content creation to ongoing adoption.
A KM owner is the sole person or team responsible for all tasks regarding the KMS
The KM owner is the point of contact for everything related to the platform, from assigning tasks to building the platform to managing it
4.3.2 Who are knowledge creators?
Knowledge creators should essentially be subject matter experts and must be hand-picked and governed by the KM owner(s).
The role of a knowledge creator entails the ownership of creating content for the departments/queues they specialize in.
4.3.3 How to pick knowledge creators?
The experience of knowledge creators needs to be diverse and not from one department only. This can be customized by choosing the best members from each department and making the team.
To make things functional, one knowledge creator can be appointed to represent each department of content that is to be covered in the content creation on the KMS
The knowledge creators should be highly knowledgeable in the current practices and be able to adapt to future KM practices
We also recommend picking up your best performing agent (in terms of your core metrics like C-SAT, Quality scores, etc.) or an experienced trainer to be a Knowledge Creator
4.4. Set review meet-ups
As soon as assigned teams start working on content, periodic review meet-ups need to be set up to track the progress
These review meet-ups must happen with all members concerned with creating content
The review meet-ups help internal teams understand the expectations and the progress rate and move ahead in a calculated manner
Ready to build a KM system?
Get started now with enterprise-grade KM system that helps you achieve your CX goals.
5. Customize the KMS
The best time to start customizing the knowledge management platform is as soon as the platform is ready to use. The platform is designed to suit and fit any organization. Make the platform resonate with the organization by customizing different sections of it.
How to customize the KM system?
5.1.
Branding
The first thing to do to customize a KMS is to add the company logo to the platform.
Add brand colors throughout the platform and choose themes while creating content for the brand's personal touch with users.
Focus on the visual aspects to ensure the KM resonates with the organizational values.
---
5.2.
Integrations
Integrate existing CRM and telephony platforms with the KMS for exceptional customer service.
Curate an API list of all the customer information useful for automation of LOB/SOP processes.
---
The chrome extension widget
Chrome extension is a floating widget by Knowmax that provides a repository of knowledge to be accessed on any URL on google chrome. The widget aims to reduce time by eliminating the screen toggles.
Users can also chat concurrently using this widget through its CRM integration. The CRM integration allows matching of customer name to each knowledge piece opened on the chrome extension widget. This leads to efficiently solving more customer problems at the same time with zero confusion.
Get to know the widgets of Knowmax
The Knowmax knowledge management comes with cool widgets that make the platform interactive and highly user-friendly. Here's how they work:
6. Best practices for content creation on the KMS
Creating content on the knowledge management system might seem like a mammoth task in the early stages. However, being familiar with the platform and understanding each function of the knowledge management software capability will go a long way in helping create substantial content from the beginning.
6.1. The cycle of content creation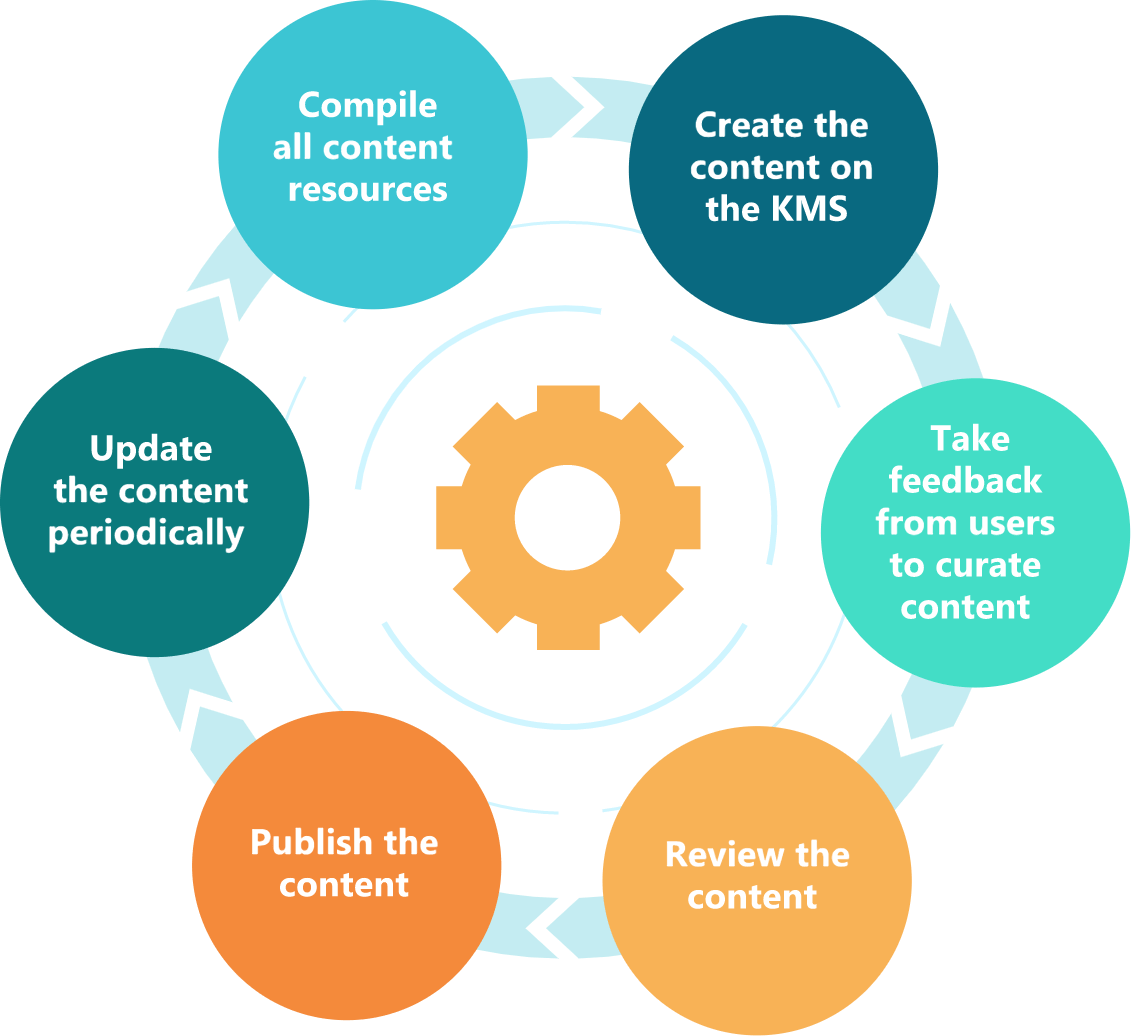 6.2.
Red alerts to look out for!
Content creation cannot be a smooth process if there is:
No content readiness
Missing matching keywords for each knowledge piece
Incorrect attachments or multimedia files
Untrained resources working on the KMS platform
No categorization of all knowledge pieces
Unstructured or unclear SOPs
No clearly identified existing content owners
Content spread in multiple silos
No clear approval workflow or approval owners defined
6.3.
The SOP checklist
One of the significant challenges in creating content on the KMS is placing the SOPs right. With a KMS, the organization has the ability to have utmost SOP compliance and reduce the chances of errors done by its users. But that cannot be achieved without this checklist :
A set and well-defined framework and structure for all content
Create SOPs to suit all content formats on the KMS
SOPs are to be made and approved by designated knowledge creators
SOPs are stored in a secured environment without dependency on just one person to access them.
Complete risk assessment of SOPs
6.4.
How to approach different content types: Knowmax edition
What format should you create content in?
If the content has troubleshooting and guided workflows
If the content needs a digital manual or visual assitance
If the content needs text supported explanation
If the content includes constantly asked or self-resolvable quries
6.4.1
Decision Trees
Make sure SOPs are converted into process workflows accurately
Pick out and create top call drivers as a priority
Learn the functionalities and possibilities of each decision tree
6.4.2
Picture Guides
Always capture and store high-quality images and screenshots
Highlight essential points in less number of words
Advice caution to end-users through the platform features if needed in all visual guides
6.4.3
Articles & FAQs
Read and proof-read all content thoroughly
Make text interactive with multimedia support
For FAQs, make content crisp and comprehensible
6.5.
Guidelines for publishing content
After content creation is out of the way, the focus should fall on publishing it for usage. The filters set while posting content make all the difference in accessing it after content is live.
Review all content with a set of standard protocols
Pick the most relevant title for knowledge pieces
Type in keywords with the end-users in mind, use jargon they would use to search for the content
6.5. Guidelines for publishing content
7. Tips to ease internal teams into using the KMS
Internal acceptance of new solutions can take a lot of time. Bringing in new practices might be unsettling for many. Following are a few activities that can be arranged among the internal team members to improve familiarity and liking towards the KM system.
7.1
State the purpose
No one likes to do things they are unware of Conduct sessions with employees and discuss their roles and responsibilities.
7.2
Create user-guides
Create user guides that include multimedia content for better understanding of the platform.
7.3
Feedback sessions
Always have a feedback session followed by a Q&A session to fill the communication gaps.
7.4
Provide performance incentives
One way to ease users into adopting the platform is through monetary and non-monetary incentives.
7.5
Have practice runs
Before launching, implement a knowledge management platform in phases and practice with internal teams before using it externally.
7.6
Refresher sessions
Have a Train The Trainer (TTT) session and refresher pieces of training to revisit and remember the capabilities of the KMS to ease usage.
7.7
Weekly cadence calls with team leads on usage
Check on how the KM solutions are being used, take notes on what's not working and strategize how to make it work.
8. Ways to measure success
Success of the KM platform needs to be calculated based on the goals that were set to be achieved through its usage. It would be best to assess realistic goals in terms of improved KPIs to have gradual but definite success with the knowledge management implementation.
8.1.
The number-crunching methods
Following are metrics to measure and evaluate the success of implementing a knowledge management platform. The way to go about the number-crunching method is to calculate metrics pre and post KMS usage for accurate measuring of success.
Track the performance of your knowledge management system using the following metrics:
8.1.1
Average Handle Time (AHT)
Average Handle Time is calculated to find out the average time spent on a call. It reflects how well a user is equipped to handle a call or a conversation.
How to calculate AHT?
Average Handle Time
(Total Talk Time + Total Hold Time + Total Post-Call Work)
---
(Number of Total Calls)
8.1.2
First Contact Resolution (FCR )
First Contact Resolution helps find out how many customer enquiries or problems were solved within the first contact through assisted or self- support.
How to calculate FCR?
First Contact Resolution
(Total Incidents Resolved - Total Re-Opened)
---
(Total incidents) X 100
8.1.3
Ticket deflection
Ticket deflection calculation refers to the organization's use of customer portals or other self-service methods to relieve tickets from the support team.
How to calculate ticket deflection?
Ticket Diflection
Total number of customer self-service interations
---
Total number of users who submitted support tickets
8.1.4
Escalation rate
Escalation rate is the percentage of support tickets that have been escalated to a new support tier.
How to calculate the escalation rate?
Escalation Rate
Number of interactions escalated
---
Total number of interactios handled X 100
8.1.5
Return on Investment
Return on Investment or ROI is a performance measure used to evaluate the efficiency or profitability of an investment.
Here is a basic template on how to calculate ROI
Note:This table is for suggestion only
KM as a tool for modern contact center
Download whitepaper that explains how and why you should implement knowledge management tools in contact centers.
8.2.
Qualitative metrics to assess success of KMS
8.2.1
Enhanced CSAT score
8.2.2
Increase in agent satisfaction
8.2.3
Reduced time to proficiency
8.2.4
Improved SOP compliance
8.2.5
Reduced after call documentation work
8.2.6
Retention of intellectual property
8.2.7
Elimination of data silos
8.2.8
Inculation of knowledge management as a practice
9. The way forward
The way forward with any knowledge base management system is to go steady and begin measuring benefits by applying the phased framework to implement a knowledge management platform. This will help identify pitfalls for an optimal platform adoption and set teams up for best content creation and optimizing practices. Once internal teams are acclimated to the new platform, there is no turning back, and organizations can walk their CX journey with a spring in their step.
9.1.
Have recurring platform review sessions
Is the goal for using the KM fulfilled? If yes, set more goals for the future that can be achieved with KM. If not, mark up reasons and work on the end goal with a new strategy.
---
9.2.
Touch upon areas of improvement
Re-visit and check how the KMS platform works for employees at all levels and design improvements in human resources, technology, or processes.
---
9.3.
Content review and revision
Content often becomes outdated quickly. Have periodic recurrences of review meet-ups to always stay up-to-date.
---
9.4.
Keep up with platform updates to improve efficiency
With recent developments and additions introduced to the platform, creating strategies to avoid redundancies and having maximum efficiency is crucial.
---
9.5.
KMS usage tracking and compatibility
Are all your users sincerely using the KMS platform? Assess the usage analytics and create an action plan for any gap in the usage.
---
9.6.
Align activities with goals
Make sure that all your platform activity matches or aligns with organizational goals and success metrics.
---
9.7.
Refresher training for users
Make sure to check how compatible the users are with the KMS. Arrange for training sessions periodically to stay up to date at all times.
---
9.8.
Industry trend analysis
See what your competitors are doing. Implement the best practices and learn from the worst. Keep track of what the platform is being used for and assess how it is being used and if it is used to its maximum potential.
---