Did you know that 67% of customer churn can be prevented if businesses resolve customer issues in their first interaction?
Table of content
However, achieving this elusive "First Contact Resolution" (FCR) remains a challenge when agents are not equipped with updated knowledge. Inaccessible information, prolonged wait times, and inconsistent data hinder the seamless resolutions customers seek.
These challenges underscore the vital importance of efficient Knowledge Management Software (KMS), which is designed to overcome the obstacles of scattered information and untapped insights spread across organizations.
While there are a plethora of promising options available, selecting the best knowledge management solution tailored to your organization's needs can be a daunting task. To make it easier for you, we have compiled a comprehensive list of the top ten KMS solutions for 2023, each with its unique feature set.
What is a Knowledge Management Software?
Knowledge management software (KMS) is a powerful digital tool that centralizes and streamlines an organization's knowledge assets into a single source of truth, eliminating data silos and allowing employees and customers to find answers quickly.
A dedicated knowledge management solution bridges the difference in customer service delivered by your new & tenured agents as the system delivers guided knowledge to your support teams throughout the customer interaction. This, in essence, also reduces the time to onboard new agents and retrain seasoned employees.
10 Best Knowledge Management Software in 2023
1. Knowmax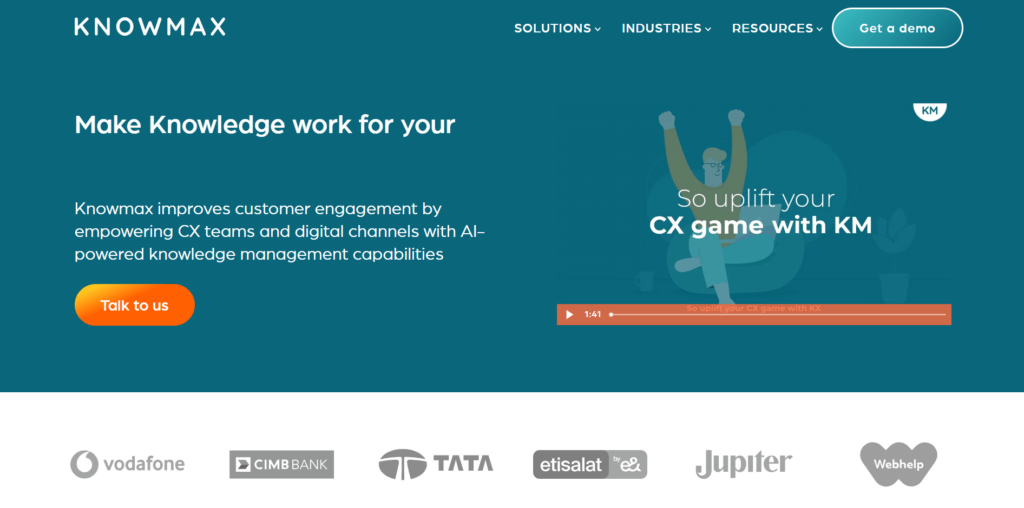 Knowmax is a user-friendly comprehensive knowledge management software that enhances customer interactions across touchpoints. Along with offering omnichannel capabilities, it also serves as a single source of truth aiming to break data barriers across the organization. It offers dynamic content modules such as interactive decision trees, visual how-to guides, and articles & FAQs, creating an easily accessible knowledge base for the support teams.
Seamlessly integrating with your existing customer service tools and channels like CRM, chat, and telephone, Knowmax empowers support representatives with guided and contextual knowledge at their fingertips. Thus, increasing agent productivity and allowing your agents to provide enhanced customer satisfaction through personalized interactions.
It can also be used as an internal knowledge management software to help onboard new agents effortlessly reduce the time to proficiency.
Features:
DIY content creation
Semantic search
Hassle-free content migration
Guided-assist troubleshooting workflows
Seamless Integrations with third-party tools
Micro-segmented analytics for optimizing knowledge base health
Knowledge base Access Controls
Multilingual Support
Chrome Extension
2. Document360
Document360 is a comprehensive and user-centric knowledge management software that caters to diverse needs and budgets through its subscription plans. Supporting both Markdown and WYSIWYG editors, it streamlines knowledge creation and organization. Alongside offering advanced search capabilities, it also facilitates the creation of both internal and external knowledge bases.
With this software, you have the power to create a knowledge base that is user-friendly and intuitive. It goes beyond simply organizing articles and enabling collaboration among authors. You can also take advantage of flexible documentation tools such as markdown text editing and seamless author collaboration, which can help you manage knowledge more efficiently.
Features:
Article Version History
Document Tagging
Real-Time Search Function
Progressive Formatting
6-Level Categorization
Brand-optimized landing page creation
3. Hubspot
HubSpot Service Hub offers extensive knowledge management tools tailored to enhance customer service and user experiences. The robust knowledge base supports FAQs, articles, videos, and documents, ensuring easy access to information. Integrated search enables swift and accurate results, boosting effective problem-solving.
Seamlessly integrating with HubSpot's suite, it offers centralized customer information, AI-driven chatbots, and a customizable knowledge base for brand consistency.
Features:
Comprehensive content repository
Robust search engine
Performance insight tools
CRM integrations
4. Guru
Guru is a cloud-based knowledge management system that helps businesses with seamless data storage and optimized customer interactions. It can streamline internal communication and make product information accessible to employees.
Features:
Browser and Website Extension
Seamless Slack Integration
Streamline content access and distribution
Performance insights
5. ProProfs Knowledge Base
ProProfs Knowledge Base is a versatile and user-intuitive platform that simplifies consolidating and managing business knowledge. Its user-friendly interface and powerful features streamline content development, enhance search capabilities, and foster collaborative authorship. The platform offers thoroughly crafted templates for a quick knowledge base creation. Its advanced reporting system empowers users to access self-service trends and article quality.
ProProfs Knowledge Base caters to various objectives, from training resources to interactive engagements and real-time support interactions. It encapsulates the complete knowledge lifecycle, from customization to dissemination.
Features:
Collaborative knowledge creation
Robust access control mechanisms
Multilingual support
Integration with ticketing tools
6. ServiceNow
ServiceNow's Knowledge Base Software offers a comprehensive solution for organizations looking to enhance customer and employee support. Seamlessly integrating with MS Word, this tool ensures a seamless writing experience and provides insights into existing knowledge gaps. The standout feature is its AI-powered search system, delivering personalized results for intuitive information gathering.
With innovative features like knowledge blocks and machine learning-powered reporting, ServiceNow improves knowledge sharing and offers real-time analytics.
Features:
AI-powered search experience
Multilingual Support
Reusable content blocks
Content refinement based on user feedback
7. Bloomfire
Bloomfire is a cloud-based knowledge management software emphasizing social learning and collaboration. Its user-friendly interface supports articles and videos, with dynamic search for quick access. It is ideal for businesses seeking elevated knowledge-sharing, cohesive teamwork, and user engagement.
Features:
Video hosting and sharing
Gamification for knowledge sharing
Collaborative discussion boards
Integrations with popular tools
8. Helpjuice
Helpjuice is a flexible cloud-based KM software that fosters collaboration and customization. Its user-friendly interface enables multiple users to work on personalized knowledge bases concurrently, utilizing adaptable access controls. The platform includes efficient media file management and template customization features. It also provides intuitive reporting and analytics for search terms, article performance, and user engagement, enhancing the overall experience.
Features:
AI-powered search
Real-time collaboration
Detailed reporting and analytics
9. Confluence
Confluence, a pivotal component of the Atlassian suite, serves as dynamic wiki software designed to enhance team collaboration and information sharing. It's particularly useful for cross-functional teams, project managers, and departments requiring extensive knowledge dissemination. It bridges communication gaps and ensures alignment across diverse roles.
Its user-friendly interface and robust features ensure intuitive knowledge sharing. Moreover, Confluence empowers businesses to strengthen collaboration and unify their knowledge base. The KMS integrates seamlessly with other Atlassian products, providing an organization with a unified incident management and knowledge-sharing platform.
Features:
Real-time content creation and organization
Customizable spaces for projects and departments
Seamless integration with Jira for efficient project management
10. ClickUp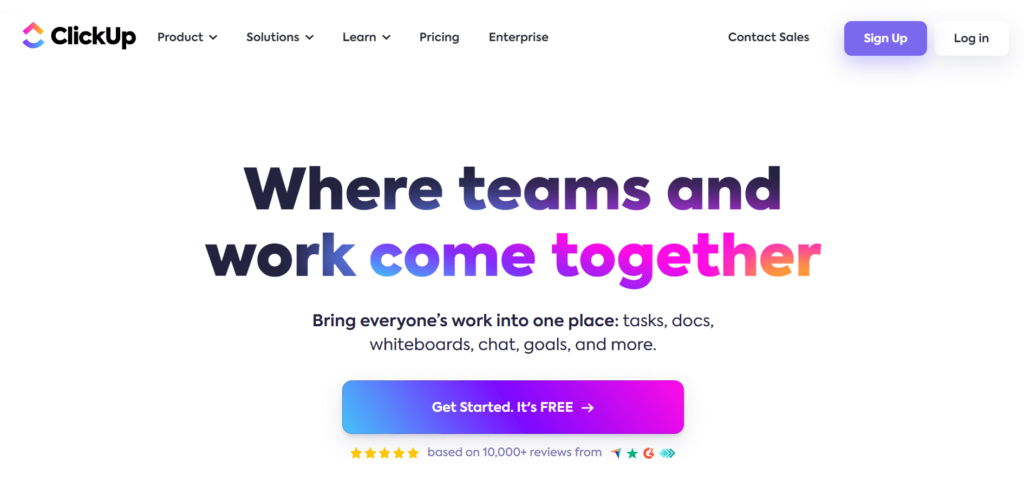 ClickUp serves as a productivity platform that transcends project management features by offering comprehensive knowledge management solutions. Designed for teams of all sizes and industries, ClickUp elevates your workflow beyond traditional project and document management. With ClickUp Docs, you can create wikis, buyer personas, and vital knowledge documents, streamlining your business processes.
Features:
Real-time collaboration for editing and task management
Multiple text formatting options
Unified approach connecting Docs and tasks
Why do you need knowledge management software?
Imagine the volume of information available within an organization, coupled with a multitude of issues from your customers and the solutions they require. With information scattered across various platforms and formats, accessing, organizing, and effectively utilizing all this information can be challenging.
Knowledge Management System (KMS) is crucial to overcome this complexity and streamline the workflow. It paves the way for benefits like enhanced productivity superior customer experiences, and faster decision-making. Let's delve into a deeper understanding of these remarkable benefits:
1. Eliminates Data Silos with Single Source of Truth
When information's stuck in silos, customers wait on hold and even end up getting inconsistent or wrong answers.
Knowledge management software breaks these information barriers, ensuring universal access. Agents get ready access to the updated information from a single source, which ensures accurate and consistent customer support across touchpoints.
2. Faster time to resolution with guided knowledge
Dedicated knowledge management platforms enable you to transform all your complex SOPs (Standard Operating Procedures) into guided knowledge workflows. Guided workflows empower your agents with simple next-best actions that they can take to quickly and accurately solve complex technical problems.
With seamless integrations with your CRM (Customer Relationship Management) platform, guided knowledge workflows auto-fill customer data from the backend, which reduces both agent and customer effort. This reduces the time to resolve problems while enhancing the accuracy and personalization of service delivery.
3. Cost-Effective Knowledge Retention
When a seasoned team member departs an organization, they carry away the valuable knowledge and expertise they've accumulated. This loss can disrupt workflows, hampering the organization's efficiency. Additionally, when new members step in to fill this gap, training them without adequate resources becomes complex and time-consuming. Knowledge Management Software (KMS) retains expert knowledge that enables seamless knowledge sharing across the organization. This minimizes onboarding hurdles and reduces time to proficiency and training costs. By safeguarding organizational wisdom, KMS effectively streamlines the transition, leading to heightened productivity and cost-effective knowledge retention.
4. Self-Service Empowerment
By offering readily accessible resources and guides, KM software enables customers to resolve issues independently, boosting satisfaction with quick solutions. This autonomy also liberates support agents to address complex queries, ensuring rapid responses and an effective support process.
5. Enhanced Productivity and Efficiency
By instantly providing relevant information, knowledge management software expedites agent productivity. Instead of spending an enormous amount of time searching for information, and relying on colleagues for guidance, agents focus on real-time issue resolution. This improves your agents' experiences, enhances their productivity, and empowers them to deliver the best customer experiences.
7 Must-Have Features of an effective Knowledge Management Software
1. User-friendly Interface for Easy Navigation
If your KM software is challenging to navigate, users are likely to abandon it. In a contact center environment where agents are expected to deliver resolutions at the drop of a hat, your KMS software should be easy to use. This ensures that using the software does not add to their cognitive load.
2. Omnichannel Compatibility
In today's interconnected world, customers expect consistent experiences across channels be it chat, email, phone, or social media.
Your knowledge management software's primary job is to eliminate data silos and enable a single access point to gather knowledge across the organization. KM platforms with omnichannel capabilities allow you to create knowledge once and share the same across relevant departments and communication channels.
This ensures a consistent flow of information across channels and equips your support reps with the right knowledge. Parallelly, omnichannel-ready KM software enables your organization to deliver round-the-clock customer support by powering your self-help channels, like the website help center, in-app chat, chatbots, etc., with relevant knowledge.
3. Semantic Search
Imagine a customer urgently seeking support for a technical issue. However, if the support agent relies on traditional search methods with limited keywords and potential errors, it could result in extended resolution times, inaccuracies, and frustration. This is where semantic search comes in as the solution, providing a smarter, intuitive way to navigate these obstacles.
Unlike conventional searches that focus solely on keywords, semantic search delves into the content, understanding context and intent. For example, when a user types "printer not working," semantic search also identifies related terms like "paper jam."
This capability yields faster and more accurate results tailored to the issue at hand. As a result, semantic search transforms searches into valuable insights, enhancing support efficiency by alleviating the agent's workload.
4. Effortless Content Creation and Customization
Imagine a company needing to update its knowledge documents due to changes in products or services. With complex interfaces and manual formatting adjustments, making content edits and creating new content is extremely challenging. This not only consumes valuable work hours but also increases the risk of errors in the content.
Here, user-friendly content creation and customization in Knowledge Management Software (KMS) play a pivotal role in seamless editing and formatting. With intuitive interfaces, easy-to-use templates, and advanced editing capabilities, employees can swiftly make necessary changes without the need for extensive technical skills. This streamline updates, ensures accuracy, and saves time, contributing to a smoother workflow for your employees.
5. Flexibility for Dynamic Content Formats
Picture a scenario where a customer encounters a troubleshooting issue and requires a tutorial video for assistance. Here, a rigid system limited to text-based instructions will fall short, leading to frustration and prolonged problem resolution.
In today's digital world, a Knowledge Management System (KMS) with adaptable content formats is essential for enhancing customer experience and issue resolution.
It empowers you to craft engaging resources such as videos, visual guides, and next-best action-based troubleshooting guides. This enhances user understanding and caters to diverse learning styles, fostering efficient learning and problem-solving. Whether supporting customers or training agents, dynamic content enriches the experience, ensuring smoother issue resolution and elevated customer satisfaction.
6. Seamless Integrations with Third-Party Tools
In a customer-centric environment where seamless operations are paramount, a system lacking integrations with your existing CX tech stack (CRM, telephone, self-service tools etc.) can hinder agent productivity. With a disintegrated agent desktop, your agents are prone to facing the frustration of switching between multiple platforms, causing delays and confusion.
Seamless integrations of the KM solution with your everyday CX tools improve agent experience by enabling them to access relevant information within their workflow without navigating multiple systems. This streamlines customer interactions, reduces response times, and enhances overall efficiency.
7. Intuitive Analytics and Reporting
The principle "If you can not measure it you can not improve it" holds true for your organization's knowledge base as well. When you can't identify which knowledge articles truly help, which ones are frequently accessed, or what might be hindering optimization, it creates blind spots and inefficiencies that impact customer support.
This is where intuitive analytics and reporting step in as an essential feature of a Knowledge Management System (KMS). It empowers you to make well-informed decisions and monitor the performance of your knowledge base. By providing insights into usage patterns and content effectiveness, these features become invaluable. Moreover, with precise data on what works and what doesn't, you can consistently improve support materials and processes, to achieve enhanced customer service experience.
Making the Right Knowledge Management Choice
Selecting the right knowledge management software is a strategic move that directly impacts your customer support outcomes. In a customer-centric landscape, your commitment to delivering exceptional service sets you apart, and the right software will become your invaluable ally in achieving that goal. Each software on this list brings unique strengths tailored to diverse business needs. However, it is vital to evaluate your goals and align them with the features offered by each software solution before making a significant investment.
With a well-crafted strategy, you can find the optimal software to drive your business's growth, innovation, and efficiency. Make the right selection to enhance your customer support, ensuring exceptional experiences at all touchpoints.
Knowledge Management System FAQs
Q. What is the purpose of a Knowledge Management System?
The purpose of a knowledge management system is to help organizations efficiently gather, organize, and share valuable information and expertise. It's like a super-powered brain that helps people work smarter by providing easy access to the right knowledge at the right time, improving productivity and problem-solving.
Q. Who is responsible for maintaining a knowledge management system?
The responsibility for maintaining a knowledge management system lies with a dedicated team or individual, often known as knowledge managers or administrators, who ensure the system is up-to-date, organized, and accessible for users.
Q. Which industries can benefit from a Knowledge Management System?
Various industries can benefit from a knowledge management system (KMS), including but not limited to technology, healthcare, finance, retail, manufacturing, and customer service.
Q. How does Knowledge Management System enhance CX?
A Knowledge Management System empowers agents with quick access to accurate information, resulting in faster responses, increased satisfaction, and proactive improvement of products and services for an enhanced Customer Experience.