What is a knowledge base?
The dictionary of Oxford defines knowledge base as "the underlying set of facts, assumptions, and rules which a computer system has available to solve a problem". This pretty much summarizes the basic understanding of a knowledge base. A knowledge base thus is a digital repository of entire organizational information.
The creators and distributors of this knowledge base are entitled to discretion over role authorization. Knowledge management can be created over knowledge management platforms that offer to collect, create, and disseminate information. Raw data is picked and refined into information in a form that can be easily circulated over any platform.
Knowmax specializes in creating a knowledge base that can be integrated over any channel. Uploaded on the cloud, this knowledge base is universally accessible to the designations authorized.
Requisites of a good knowledge base software
Know your requirements
The experts must be very clear about the type of content they need. Appropriate content helps agents in quicker problem-solving. Pay attention to the needs of all the teams and interact with your employees to know what more do they expect to help deliver ever better service levels and quality.
Content clarity
Content admitted to a knowledge base should be visible and helpful in the hour of need. Clearly formulated content helps users jump directly to the solutions thus eliminating any time being wasted in scanning through words that might not help in anything but delay resolution speed.
Quality
A good knowledge base is always consistent and should be open to customization at any point in time. A knowledge base sacred to one organization is the statement of its brand value and customizing content accordingly with consistency intact supports quality, speed, and pervasiveness alongside goodwill.
Knowledge tools used
Tools used in generating a knowledge base depend pretty much on the type of audience and their feedback post-interaction. This interaction can be with human or automated channels of assistance. Knowmax uses decision trees, visual guides, bots, and mixed reality to help customers obtain solutions quickly without complicating the situation.
Easy UI
The users are antagonized if they do not receive solutions for their issues and it makes them feel undermined at hands of support staff. Easy interface helps customers to solve their problems independently at any time and through any platform that suits them best. This keeps users engaged and adds credibility to the knowledge base.
Semantic search with AI support
Knowmax offers Google-like elastic search results by reading texts from within the document by merely typing through the mainframe's search bar. It increases the accuracy of the content as it is supported by AI search which in turn trains bots and crawlers with NLP to recognize customers' tone through keywords typed.
8 Best knowledge base examples
Milaap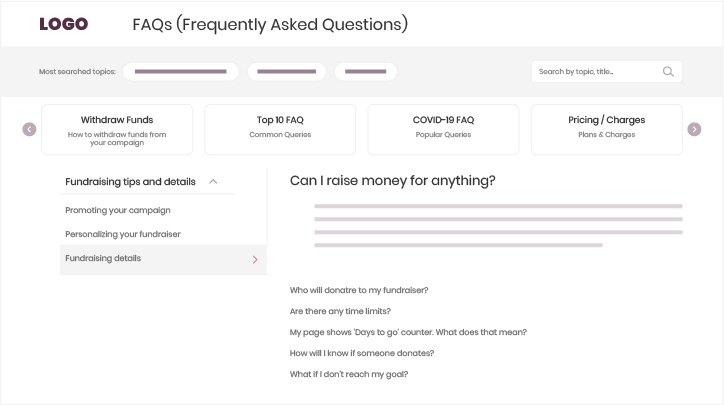 The knowledge base required for an NGO is extensive and should be highly organized. People from all corners of the largest democracy are sure to have complex problems and require information, figures, accountability, and emotion to deal with it all. A fundraiser with pan-India operations needs an updated list of articles, FAQs, inquiries, and other support formats to be accessible from any place at any time.
StormWarden
Based out of Australia, StormWarden is a leading IT and cloud service provider. A firm that helps lay down the technical foundations for other organizations needs to be quick and spontaneous in delivering solutions.
With changing face of business, IT, cloud computing, and AWS is no longer crown jewel but essential, and Knowmax helps them provide the same through decision trees and knowledge base. The customer service executives can thus reach to roots of problems and do an in-depth study when needed.
Knowledge base for Telecom in Asia
Consumers of telecommunications and networking have multiple plans and policies to choose the best one from amongst them. A full-fledged knowledge base helps agents to find answers from a pool of infinite information.
It resolves queries quickly and pervasive integration makes it easy to distribute knowledge via Omni channel platforms and reduce pending tickets by deflecting queries over AI-powered self-service platforms. This improves the concentration of manpower expertise and reduces the cost incurred per ticket.
Knowledge base example for Telecom in ME
An international telecommunication service giant, this company provides solutions like mobile, wireless, wireline, content, and telecommunications. An operation that takes place at this large a scale naturally piles up millions of queries and knowledge management software as good as Knowmax's helps the organization to get assistance as soon as a ticket is raised and keep customers satisfied.
Analytics dashboard, creation, and dissemination of customizable knowledge base make the giants retain their position while making fortunes over by earning a new share in market. AI chatbots are equipped with entire knowledge base as and when updated and are trained using ML and NLP to avoid any misplaced delivery of information.
KB For MVNO in UK
A mobile virtual network enabler from the UK, this organization is active on international fronts like Australia, Austria, Belgium, Denmark, France, Germany, Ireland, and many more countries. A self-care platform helps customer service executives to enable consumers to use the integrated solution and knowledge base for finding answers to their problems on their own.
It prevents agents to get burdened under petty queries that could have successfully been pawned off via self-service. The information circulated hereby is consistent and verified under the supervision of the product and content expert team preventing any incorrect knowledge from being passed on or a faulty solution from being given adding to agent error, increased AHT or reduced FCR.
Finance knowledge base in UK
Based in the UK, this financing and investment firm are keenly involved in making earning, saving, investment, cover, and various other business factors eased. Knowmax is associated with the organization as a customer and agent support channel.
The provision of decision trees helps product experts to start with a statement. Queries of financial nature are bound to be multidisciplinary thus standing in need of all-around evaluation, speculation, and solution. The process is quite detailed and decision trees help in putting it into words and arrows without compromising on any piece of information.
Knowledge base helps agents to find answers and descriptions to general situations. It lists in detail all top queries, answers pertaining, articles associated, and media attached for a better grasp of the situation in the least possible time.
Knowledge base for Telecom giant in SEA
The telecommunication giant from Malaysia, this organization is licensed for MVNO (mobile Virtual Operations). Carrying multiple networking and communication initiatives, an organization is required to train its customer service executives with such intense knowledge that the time taken for solution delivery falls while the accuracy hikes.
For an enterprise with such vast areas of operations, the customer expectancy ratio is always high. Telecom as an industry has always been known for multiple and complex queries. This requires a counter of a highly-skilled, patient, knowledgeable, and trained professional who can provide answers, deviate intelligently using tech support and provide close support anywhere, anytime. Our self-service portal comes integrated with recent solutions, updated information, intuitive modules, and easy UI works like a boon for such busy corporate clients.
The customizable facilities and knowledge management software help document the entire pool of raw data, processed information, and final content over single software. It provides for management of documents, content, learning, training, quizzing, analytics, and customer feedback, all in one place, saving users, experts, and agents the time of switching platforms and rippling workflow.
Knowledge Base Financial Institute in Asia
Cambodia's leading financial institution, this institute is a private body based out of Canada. Circulating money and expanding the balance of credit is clearly not feasible in the present era. Economic and monetary fluctuations thus, run high stakes of financial security with the onus of societal development and preservation on these institutes.
Such a composite organizational hierarchy requires intense training and accurate support for all its staff and service. A self-service portal helps the users to find timely and correct solutions independently while modules like decision trees, AI bots, visual guides, etc help serve intuitive knowledge.
Knowledge base components
A good knowledge base must always remain flush with entire organizational data arranged department-wise. It must control the access authority to any content and must record each activity taking place on the platform, round the clock. The analytics must be accurate and random sampling followed. Any issue detected or reported must be given priority status always.
The agents should feel equipped and not burdened with the use of a good knowledge base. Supervision of experts should not be confused with their obligation to replace automated systems in course of their failure.
Listed below are the key components for a good knowledge base:
1. Structured properly
A good knowledge base should always use the principle of visual hierarchy while placing tabs. It helps set a pattern for the visitors to follow while searching for solutions. This way, the self-service users or the agents won't have to waste time searching for the first step and next step respectively.
2. Complete knowledge in one place
A good knowledge base never fails to fully comply with the motto of "AI cloud repository". Such knowledge base should be accessible 24×7 anytime, anywhere, by authorized persons only.
3. Visual help
The knowledge so entered over a knowledge base can be quite complex considering the technical nature of queries and impatient customer behavior. Visual attachments like images or videos help simplify solution dissemination to a great extent.
4. Technical support
The agents and field experts require backend office support. This must be prompt and accurate. Every knowledge base should be device and screen optimized to help quick loading and proper display of information. Good backend support reduces servicing time and enhances customer engagement.