What does your current knowledge base (KB) look like?
Perhaps you're using PDFs, spreadsheets, and Word documents to share and access knowledge.
Or maybe you're relying on your trusty CRM knowledge base.
Either way, if your current knowledge base consists mainly of FAQs, articles, and lengthy product & service guides, you're missing out on the potential to deliver a seamless agent and customer experience.
With the speed at which tech is evolving, more innovative and dynamic content formats are now available to make your knowledge more actionable and impactful than ever.
One such innovation is the interactive decision tree tool. A machine learning product, decision trees best store complex knowledge in simplified workflows.
This article explains why decision trees are a must-have in your enterprise knowledge base for better and faster customer service.
What are decision trees in knowledge base?
Decision trees are tree-like flowcharts that branch out to predict the outcome of predefined scenarios. Decision trees simplify decision-making by guiding users on a clear path toward a solution.
In customer service, agents can probe a customer problem through a series of next-best actions using customer inputs until they reach a solution. Decision trees make decision-making processes easier and clearer, minimizing room for support errors.
Decision trees in knowledge base vs. static knowledge base
With changing customer needs and expectations, having a knowledge base to simply "store" information will not help your business in the long run.
That's why it is crucial for your agents to have actionable knowledge ready at their fingertips to provide fast and accurate solutions to customers right where they are.
Let's understand the key differences between a decision trees in Knowledge base and a static KB to compare their use case in customer service.
1. Decision trees in knowledge base
A decision tree KB is a knowledge hub storing information as stepwise next-best actions for mistake-proof problem-solving. It consists of SOPs, troubleshooting processes, and bite-sized scripts stored as easy-to-understand guided workflows so that agents can solve a customer's problem without confusion or doubts.
Use case: Decision trees are best used in resolving technical support tickets where a customer problem consists of multiple variables. These support issues also demand strict standard protocol adherence.
For example, tickets related to troubleshooting scenarios like banking login and transaction issues, delivery failure status, device glitches, etc., need guided and contextual help in real-time to swiftly and accurately lead the customer to a solution.
2. Static knowledge base
A static knowledge base usually comprises help articles, how-to guides, and FAQs that store more detailed product or service information. They help customers learn more about a product or service, like features, best practices, updates, common yet more straightforward questions, etc.
Use case: This knowledge base is best used for simpler, more informational content, including those that do not comprise multiple variables or if/then scenarios.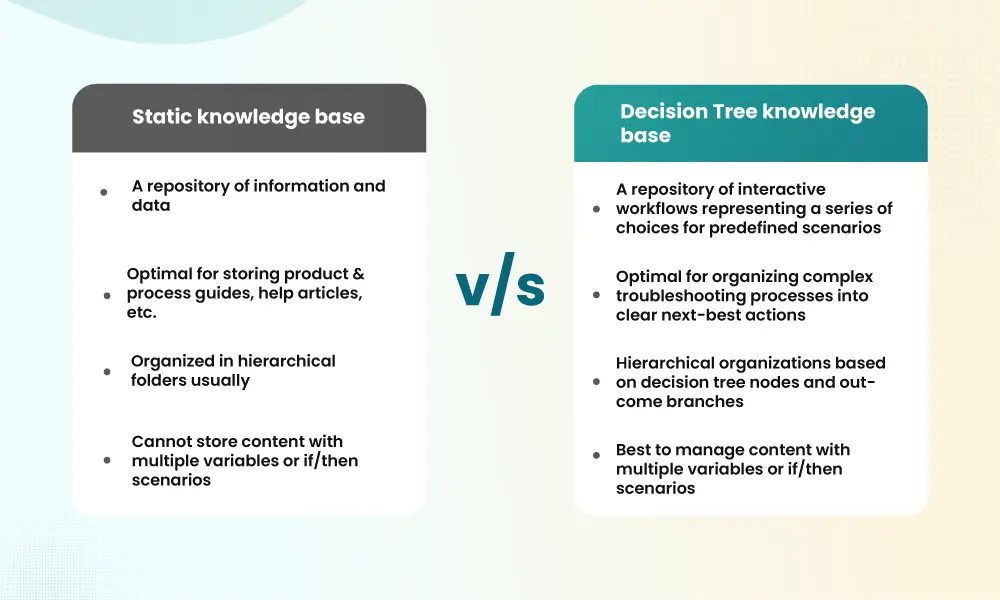 5 benefits of using decision trees in knowledge base
Now that we know the difference between a decision trees in knowledge base versus a static one, let's find out the top benefits of opting for a decision tree KB to enhance customer experience.
1. Improves agent experience with contextual, next-best actions
Service agents are the backbone of customer service. With tight deadlines and intense work environments, setting your reps up for success with the right tools and relevant knowledge will skyrocket their performance.
For complicated support scenarios, a ready stock of relevant decision trees in knowledge base ensures your agents have real-time guidance and context to help your customers.
This way, agents no longer need to exhaust time and energy contemplating what next-best action to take, so they can engage more meaningfully with customers and resolve more tickets in their workflow. This will improve agent experience and improve their productivity.
Knowmax decision trees also support auto-traversing decision tree steps based on contextual customer data to fastrack problem-solving. This eliminates the need for customers to repeat information and make conversations smooth, concise, and natural.
2. Improves customer conversations with bite-sized scripts
Communication is an art; mastering it is knowing what to say, when, and how to say it.
This is where decision trees can aid you in crafting thoughtful and precise bite-sized scripts for your agents.
Using these customer service scripts, your agents can rest easy knowing what they need to say is right before them. Based on customer input, relevant guided dialogues help your agents become pro-conversationalists.
3. Reduces handling time with faster resolutions
Time is money, and we're sure your customers agree. In fact, up to 90% of customers deem instant response as crucial when they need assistance!
That's why equipping your agents with relevant knowledge is crucial to fix their problems. As decision trees are guided workflows, your agents can access precise information to fix any customer issue accurately, reducing handling time.
Tools like Knowmax decision trees allow you to embed pre-existing content (articles, screenshots, videos, etc.) with decision tree steps. This empowers your service reps with all the information they need to solve problems so they can focus on helping customers more instead of relentlessly searching for information.
4. Powers personalized support with easy integrations
Personalization can dramatically impact your brand, whereby 80% of consumers admit they are more likely to purchase from brands with personalized experiences.
This indicates a huge opportunity for brands to attract and retain new customers.
By leveraging customer data, you can ensure personalized support by meeting customers at their preferred touchpoints, providing 24/7 service, eliminating repeat questions with contextual information, and more.
For example, integrating your CRM with your knowledge base ensures systematic synchronization between your tech stack to power fast and accurate support. Additionally, integrating your decision tree knowledge base with self-service platforms gives customers the autonomy to help themselves with the option to escalate to a human representative if needed.
Simplify customer service with decision trees
Make customized scripts with Knowmax's interactive decision tree software.
Get a demo
5. Optimizes workflows by assessing user journeys
There's a lot that goes into delivering top-grade customer service. One of the major factors is improving your processes to keep generating superior outputs.
To improve your current workflows, analyzing what's working and what's not is pivotal to identifying gaps in your support content's helpfulness.
For example, if your agents spend a lot more time-solving problem X compared to the average time spent on solving other problems, then it is a good idea to analyze why it is so. Analytics will help you identify these gaps to optimize your workflows for better results.
Knowmax makes it effortless to analyze user engagement patterns through in-built micro-segmented analytics. It provides actionable insights via detailed reports of user journeys on workflows, time spent on each step, and user feedback on content quality.
Wrapping up
Building a knowledge base tailored to your business goals is crucial for long-term success. Incorporating decision trees in knowledge base comes with the benefits of improved SOP management, easy-to-use agent scripts for smoother conversations, reduced handling time, and optimizable workflows to better serve your customers.
Ultimately, you can meet and surpass customer expectations with the right tool and knowledge with best-in-class customer experience.