Knowledge Base Benefits For Call Centers
Posted On: June 10, 2020 | 7 mins read

414 Views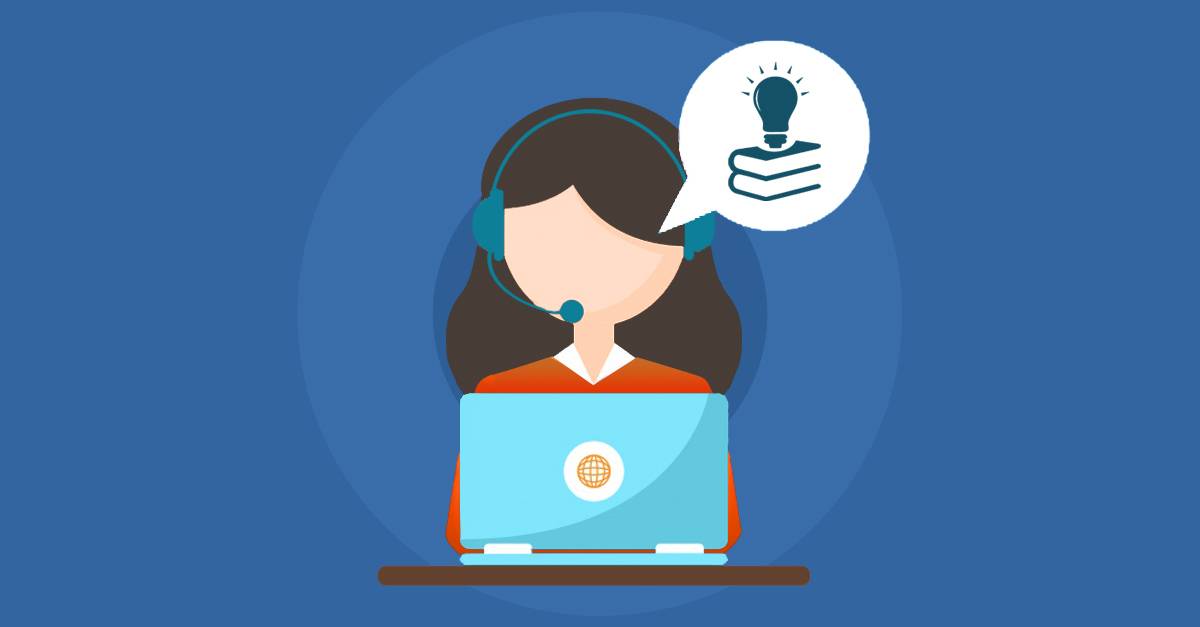 Call centers are still perceived as cost centers, even though they are not. Having a call center knowledge base software can turn them into a profit center if the extra cost could be minimized. The top management is reluctant to pump more money in call centers, since they see no revenue value, placing call center managers in a tough spot.
Customer service in a call center is of utmost importance as the whole concept of a call center revolves around it. Training and hiring of quality agents for the center increases customer service quality. It also reduces the costs greatly. Training and coaching make the agents highly proficient. Also, it increases the efficiency of agents and gives them fledged knowledge about their respective jobs.
What Is A Knowledge Base?
A knowledge base is a centralized repository where information is stored, organized, and then shared. For example they can be FAQs, troubleshooting guides, Decision trees, Picture guides, or anything that the customers might want to know regarding the services offered by the company. When used externally, a knowledge base is where customers can go to learn any and everything they'd ever need to know about a company's products or services, organization, and industry. An internal knowledge base, on the other hand, is typically utilized as a way to allow employees to collaborate and distribute all company knowledge and information internally. Nowadays a repository has become an integral part of any company.
Some Benefits Of Call Center Knowledge Base:
Knowledge base eases finding information
One of the most essential features of a knowledge repository is the search function. Since time is of the essence in any customer support department, this feature is a must have. Agents can use this feature to find information quickly to solve a customer problem.
Enhance customer loyalty and trust
Providing quality information across the company's service channels builds customer trust in the company or brand. This eventually improves customer loyalty.
Decrease Cost & Resources
Having an already available knowledge base can help in saving a lot of training costs. Also, it helps the customer resolve issues without calling in by using self service. This lowers number of personnel required.
Adding a customer self-service portal to the website or mobile application — replete with a reliable knowledge management system, AI-powered chatbot capabilities, and call-back options — enables customers to take matters into their own hands and alleviates the pressure on call center agents thereby improving FCR rates.
Reasons Call Center Knowledge Base Is Required:
Helps You Create New Help Articles:
Using a knowledge base by support agents is not just for finding information, but also as a tool to take down notes regarding customer queries. It can help agents record the questions of customers during a live call. These notes can be directly recorded as a draft article and pushed to technical authors so that it can be further worked upon and published as a full-length help article.
Helps in Agent Satisfaction (A-SAT)
Having a knowledge base helps greatly improve A-SAT. The agent can solve all the customer problems quickly and efficiently thereby thoroughly satisfying the customer and getting a greater agent rating.
Knowledge repository reduces agent errors because it is a database of information. The repository stores the customer data and also the problem solutions. This helps the agent to act fast and minimize errors.
Helps achieving individual KPIs
Use a repository for fulfilling of individual KPI's like "Reduction in the number of support tickets"," Quality control" etc. Self service comes into the picture here. Having a repository available for customers empowers them to solve their own problems. Thereby helps in achieving individual KPI's of agents.
Improve Communication and Cooperation
As the company grows, most of the departments and teams start getting more and more intertwined. Employees from different teams and departments will have to start collaborating more. And sometimes, communication between them can be hard to maintain. That's where a repository of internal knowledge steps in.
Improves workplace training
Knowledge base software provides the much-needed structure and accessibility to knowledge management. When a company embraces the knowledge sharing culture, the content found in the knowledge base becomes very valuable to employees. The company gives employees new opportunities to grow and develop. Therefore the employees feel valued thereby increasing their job satisfaction.
With a call center knowledge base software tool, agents can solve problems faster and more effectively. Call centers can use the knowledge base for various things right from customer support to knowledge management – the possibilities are limitless. Any customer nowadays demands and deserves immediate support for software or tool that they are using. That is why having a dynamic, up-to-date, and customer-centric knowledge base reduces customer churn and boosts your ROI in terms of customer success.
Categories: