Call Center Best Practices: Customers matter the most
Posted On: October 20, 2020 | 9 mins read

109 Views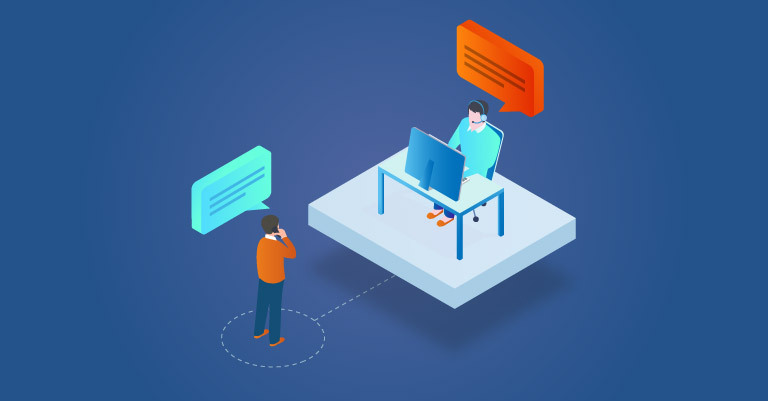 Call center best practices are essential to building a positive Customer Experience (CX), especially after the first call. Customer satisfaction is crucial as it determines the value of your business – happy customers will always help you build a successful business.
Customers demand quick and personalized service and to achieve that, companies need to empower their agents with better technical solutions. This is where knowledge management comes into the picture. A KM platform enables agents to conveniently access relevant customer information for resolving issues and ensuring maximum productivity.  A knowledge base helps by constantly updating agents with data that not only improves employee performance but also guarantees solid metrics for call centers.
Top 5 call center best practices
1. Evaluating and choosing the right candidate during the interview
It is important to choose a talent that positively represents your company, influences fellow agents, and has an in-depth understanding of your services and products. A competition-based approach in terms of assessment tests and training programs are best suited to pick the right candidate for your company. Learning Management Systems (LMS) provide a platform wherein these can be conducted online and can be accessed from any location. E-learning also allows candidates to refer to study and training materials at any point in time.
2. Call monitoring and scoring
Managers need to monitor the performance and training of agents to ensure growth and support team members. Quality monitoring software such as speech analytics can monitor all the calls helping managers to deliver relevant feedback.
3. Effective communication
Knowledge management and sharing plans with effective communication help managers to have a direct dialogue with agents on their performances. This also allows the agents to put across their issues and empowers the entire team as a whole.
4. Incorporate customer feedback
The best resource for feedback for most companies has always been Customer Experience (CX). More often than not most customers do not give feedback unless they are highly dissatisfied with the service. The key is to encourage customers to leave feedback to improve the performance of the company.
5. Avoid negative language
Agents should be specially trained to not use any negative tone or language with the customers. For instance, instead of telling a caller, " I am going to put you on hold" encourage them to use phrases like, " I am sorry but let me transfer the call to our expert who will sort your issue".
6. Focus on your metrics
The metrics you should prioritize are measure service level, call resolution, average handle time, call abandonment, and average hold time.
7. Effective training
Training agents should not be viewed as a one-time thing, as opposed to an investment. Instead, organize regular coaching sessions and workshops that constantly update the agents. With the LMS platform, the agent's performance can be tracked and they can access materials whenever they need.
Best ways to measure call center agent productivity
Measure productivity with reliable metrics such as:
1. Average calls blocked
How many of your agents can reach customers, versus failed connections.
2. Average call abandonment rate
The percentage of callers who hang up before reaching an agent.
3. Average time in a queue
Total time callers wait in a queue divided by the total number of calls answered.
4. The average speed of an answer
Long wait or answer times handling customers could indicate agent inefficiency and lead to customer churn.
5. Average handle time
Average time of a call
6. First call response
The clearest way to measure agent productivity, as it measures how many issues are resolved the first time a customer calls.
7. Service
Percentage of calls answered within a specific time
Operational measures to improve call center scripting
1. Use call recordings to improve the quality of scripts
Call recordings have been adapted as a practice by most of the organizations for data records, identifying issues, and evaluating performance graphs. However, beyond these points, these can be used to improve call center scripts by analyzing customer's concerns and bridging the gap between customers and agents. By paying attention to calls you can also make the scripts more conversational and natural.
2. Allow the customers to respond
While conversing with your customers it is important to make them feel heard. You can express your concerns and solutions but make sure to let them respond. This creates a positive impact and allows you to have a great conversation.
3. Make a clear and concise conversation
Be clear about your solutions and do not confuse customers with complicated and unnecessary information.
4. Improvise the call flow script keeping your customers in mind
Observe and learn from your customers. Studying customer behavior and referring to common problems highlighted on your KM platform can help you improvise on your call center scripting to make it sound as natural as possible.
5. Utilize scripts to validate customer issues
When customers make calls, more often than not, they are already frustrated with their issues. They immediately need to feel validated and responded to with a positive attitude. Incorporating these points in your call center agent script can be beneficial.
6. Have an authentic approach
A similar approach does not necessarily work for all customers. They need an authentic approach to hold them into the conversation and convince them that their concerns will be met with.  Repeated phrases used by all the agents sometimes can irritate the customer. Having an individual, the personalized approach can be a game-changer.
7. Understand that apologies are not enough
Apologies are never enough for dissatisfied customers. Instead, empower them with solutions that help solve their problems at the soonest. You should design mock call scripts that have the potential of changing a negative experience into a positive one.
8. Adapt to the situation
No script can be a perfect script. Observation and regular analysis of conversations will throw up regular patterns and problems – but agents should also be trained to adapt to situations on the fly when the customer goes off-script.
Management of SOP adherence
Standard operating procedures endorse uniformity within an organization and allow people to follow standardized procedures and protocols that have been set to work towards the organization's goals.
Factors to improve SOP adherence
1. Training agents about SOPs and their uses
2. Increase visibility through well placed and detailed cards, posters, and banners
3. Measurement – review employees on their SOP usage to encourage adherence, with incentives offered to those achieving the desired results.
4. Frequency – SOP documentation should be constantly updated when required and distributed amongst the agents.
Knowledge management systems at call centers stand by and facilitate call center specialists from training to learning and knowledge sharing within the organization. These include advanced solutions like self-service, virtual centers, field support, and the ability to run analysis on agent performance. When the end goal is positive CX, the solutions often begin with knowledge management plans, allowing agents across your company to get onto a common program, and adopt call center best practices into their everyday working.
Categories: