What is Omnichannel customer support service?
Omnichannel customer support service is an integrated channel approach that allows customers to seamlessly interact with brands across multiple channels like phone support, web chat, live chat, SMS, email, etc.
The integrated web of channels creates a collaborative communication system that lets customers switch conveniently from one touchpoint to another at any point in their journey while customer context is preserved, helping customer service representatives with a 360-degree view of customer journeys.
This enables contact center agents to deliver high-quality experiences to customers while minimizing their effort, irrespective of the channel used by them.
Difference between Multichannel & Omnichannel customer support service
While both multichannel customer support and omnichannel support for CX involve interacting with customers via more than one communication channel, these two approaches are often confused as one. However, they can be differentiated on two primary grounds:
1. Synchronization
In multichannel customer support, various customer communication channels are used for interacting with customers. However, these channels function independently, and customer information on one platform cannot be accessed by other channels unless manually organized by customer service reps.

In omnichannel customer support, businesses' channels to interact with customers are closely knit with one another and function as a single unit. Customers switching from one channel to another do not have to repeat their case as the service representative can easily take off from channels previously used by the customer.
2. Customer experience
A multichannel CX approach focuses on customer engagement using multiple channels, while each channel's customer support experiences are different

In omnichannel customer support, the focus is on creating a holistic customer experience by offering the promise of consistently high-quality services, irrespective of the channel used by the customer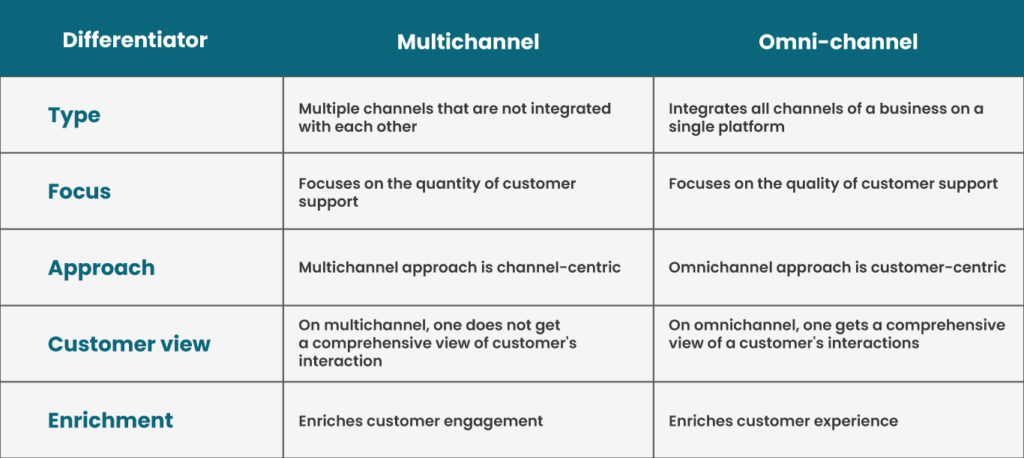 Why is Omnichannel customer support important?
Companies with strong omnichannel customer support capabilities retain on average 89% of their customers, compared to 33% for companies with weak omnichannel customer engagement. By providing omnichannel support to customers in a digitally evolving world, companies can reap multiple benefits as listed below:
1. Reduced inbound call center calls
The availability of multiple channels that deliver consistent experiences reduces inbound customer phone calls, resulting in benefits spanning from reducing the risks of agent burnout from handling high support volumes to increasing customer satisfaction with self-service options.
The bottom line is that omnichannel support for CX leads to the optimal distribution of support tickets instead of trafficking a particular customer support channel.
2. Reduced operational costs
Omnichannel customer support reduces operational costs without compromising customer service quality. The average SMS/Text session is up to 75% cheaper than the average voice call.
For basic concerns, customers too like to utilize less time-intensive channels like chat support or SMS instead of waiting in long ticket queues to connect with support reps.
3. Increased customer satisfaction
64% of consumers would prefer to use SMS instead of voice as a customer service channel. By offering customers optimal support through channels of their choice, customer satisfaction increases across every touchpoint.
4. Increased customer loyalty
An integrated channel approach minimizes customer effort during research, sales, and after-purchase journey by aligning the right channels with the right information at the right time.
Consistent information across multiple channels fosters trust in customers and increases their loyalty to a brand.
5. Higher business revenue
Omnichannel customer support is cost-effective and generates higher business revenue in the long run by preserving customer context through their journey and creating holistic customer experiences.
KM Guide for BPOs
Learn how KM system can work in contact center scenario.
Download guide
How to create a successful Omnichannel customer support service via knowledge management?
The increasing movement towards digital channels gained greater momentum, especially after the Covid pandemic, and since then, there has been no turning back. To this end, companies need to elevate digital customer experiences while preserving traditional communication channels.
To thrive in a customer-centered world, companies need to orient toward omnichannel support to ensure that every customer channel disseminates the same level of service that customers expect from a business.
Creating a successful omnichannel customer support strategy requires the backing of a robust Knowledge management solution working from the backend.
Intelligent Knowledge management solutions are no longer restricted to maintaining an online library of organizational documents. Instead, a Knowledge management solution like Knowmax extends to offer knowledge creation, management, and sharing capabilities, all from a unified platform to create a successful omnichannel customer support strategy for businesses.
Here is how organizations can set their omnichannel customer support strategy up for success through the Knowmax Knowledge management solution:
1. Create, organize and manage content under a unified platform
A successful omnichannel support strategy begins with a consistent Knowledge base. When businesses have a reliable Knowledge base for contact center agents and customers, they create consistent experiences across multiple channels.

With the Knowmax KM platform, users can conveniently create articles, FAQs, and workflows without the need for any code or technical expertise.

The platform acts as a single source of truth, allowing knowledge creation, curation, management, and distribution from a single and unified place. A successful knowledge base works as a foundation for a successful omnichannel customer support strategy.
2. Distribute content consistently across all relevant customer touchpoints
After creating a Knowledge base, the next step is to distribute the content across all the relevant customer touchpoints. Before publishing any new information, the Knowmax content authoring process allows users to decide the departments and channels for Knowledge distribution.

Distributing content across multiple departments and channels does not require users to create new content for each channel. Instead, with Knowmax, users can mark the relevant channels and disseminate information from a single place to all the relevant customer channels, creating an omnichannel consistent flow of information.
Here's how easy it is to select the channels through Knowmax:
3. Integrate CRM to create customized experiences for customers
While the CRM platform enables customer support reps with customer information, integrating Knowledge management with CRM supercharged customer experience across all touchpoints with faster and more efficient troubleshooting mechanisms.

With Knowmax intuitive workflows in the form of Cognitive decision trees, customer information from CRM gets auto-traversed into the problem-solving workflows, enabling customer support reps to reduce Average handle times (AHT) and offer customized experiences to customers via phone support. The workflows can also be disseminated to other support channels for omnichannel customer support.
4. Enable call deflections with optimal self-service options
Consistent content availability across channels encourages customers to help themselves with easy-to-read knowledge base articles and FAQs. The knowledge base created via the Knowmax Knowledge management platform can be utilized to power self-service channels like chatbots, website FAQ sections, and community forums.

Knowledgeable self-service channels allow customer support representatives with high support ticket volumes to deflect tickets and ensure consistent quality experiences for customers.
5. Leverage data analytics to elevate customer experiences
An omnichannel customer support strategy yields benefits as long as all the channels are empowered with updated and relevant information.

With Knowmax, contact center managers can leverage data analytics in the form of micro-segmented analytics to optimize Knowledge base content for its relevance. These analytics provide actionable insights for business leaders by tracking top-performing articles and workflows and the time spent on different content modules.

Proactively acting on the insights gathered from the performance of knowledge base content can help deliver consistent and relevant information across all customer touchpoints for omnichannel customer support.
Conclusion
Developing omnichannel customer support is becoming the differentiator for a successful CX strategy. Handling multiple channels and ensuring they work as one cohesive unit can be a tedious business operation.
However, an intelligent Knowledge management solution makes it convenient to create, organize, manage and disseminate consistent knowledge across all customer touchpoints for robust and successful omnichannel customer support.