Customer service is a qualitative term that serves as a decisive metric when referring to the success of a contact center. Customer service, though, does not remain limited to the calls circulating within a contact center. Customer service knowledge base spreads out to self-service and automated service assistance. This eases interaction and resolution by reaping time benefits, and when 'time is money,' who shall deny!
What is a customer service knowledge base?
A knowledge base for customer service refers to a vast digital library that contains an entire record of all the organization's reports, documents, data, and information about all suppliers, dealers, customers, agents, feedback, and more.
This entire thing is classified and chronologically arranged where needed. The channel that shall carry any such information is pre-decided by the designation of the user and the need for accessibility.
A customer service knowledge base is specially created to ensure usage from customers. It involves assistance via agents, digital channels, and chatbots. Customer service knowledge base for customer service aims at ticket deflection while keeping up with all other KPIs.
Features like omnichannel assistance and self-service play crucial roles in distributing actionable, consistent, and simplified knowledge over all platforms.
How to create a customer service knowledge base?
There are several methods to store information in a knowledge base. It could be through a picture guide, a decision tree software, or simple articles and FAQs. For customer service organizations need to ensure the interactivity between customers and the information piece created for them. Read on to find out what knowledge base articles are and how to make them.
Knowledge base articles
Articles are long full pagers of information about a particular problem. Articles address the issue in-depth, thus making them supplements agent knowledge and user's additional interests. It is detailed about the product, its features, product-related queries, and potential solutions.
With Knowmax, you can create articles about any product or service
in the customer's native language to train the agent before getting them hands-on with callers looking for a solution.
Steps to create knowledge base article through Knowmax:
Step 1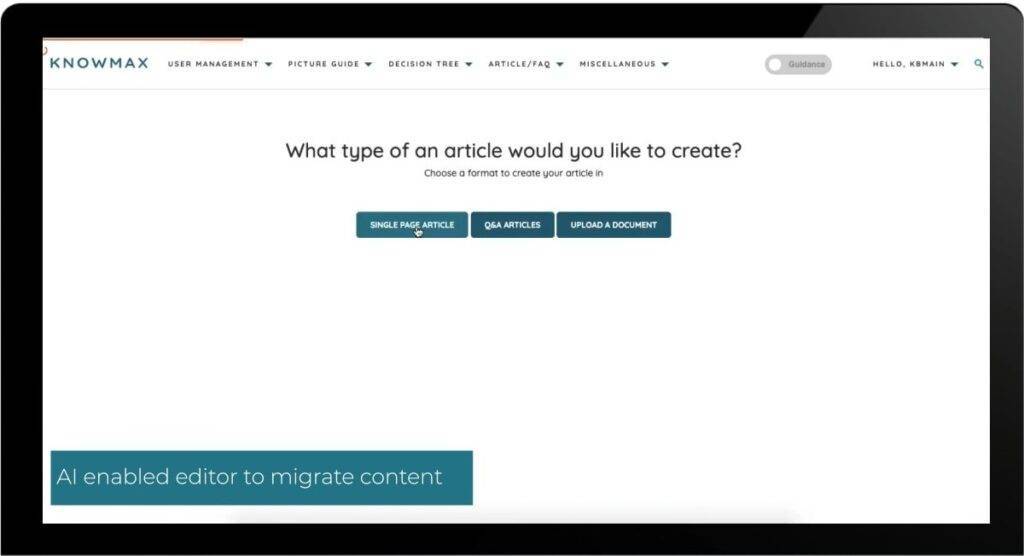 Click on ' Article/FAQ' on the Knowmax admin dashboard
Open the article hosting page of the knowledge base
Click on "Create single-page article."
Step 2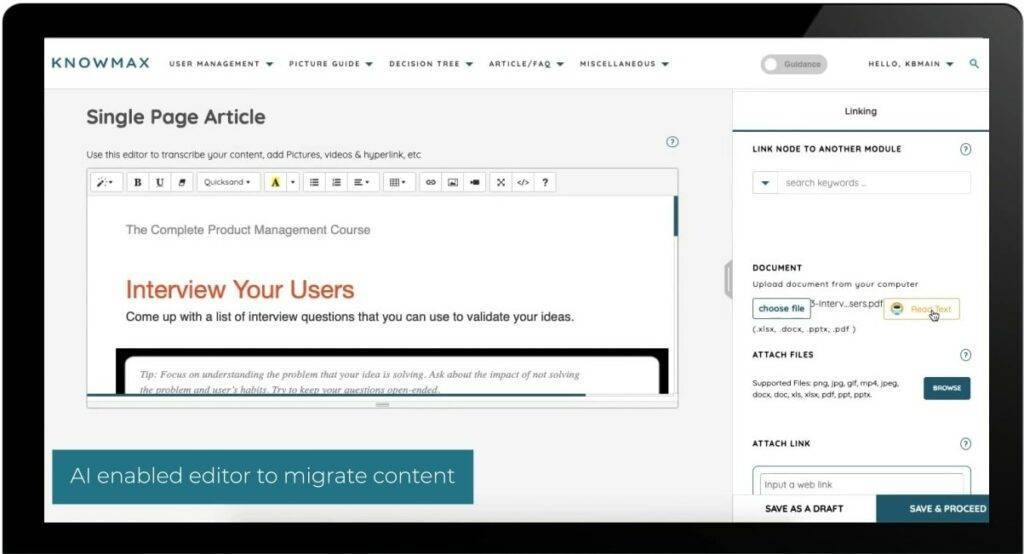 Create an article, use the editor tool to change or add – font, color, style, alignment, tables
Add a document by browsing or uploading from the system.
With Knowmax editor, any document can be edited on the platform using the ' read text' option.
Attach files of any kind within the article for interactivity and information.
This could be a PPT, word document, or image.
You can place it anywhere required within the report.
Step 3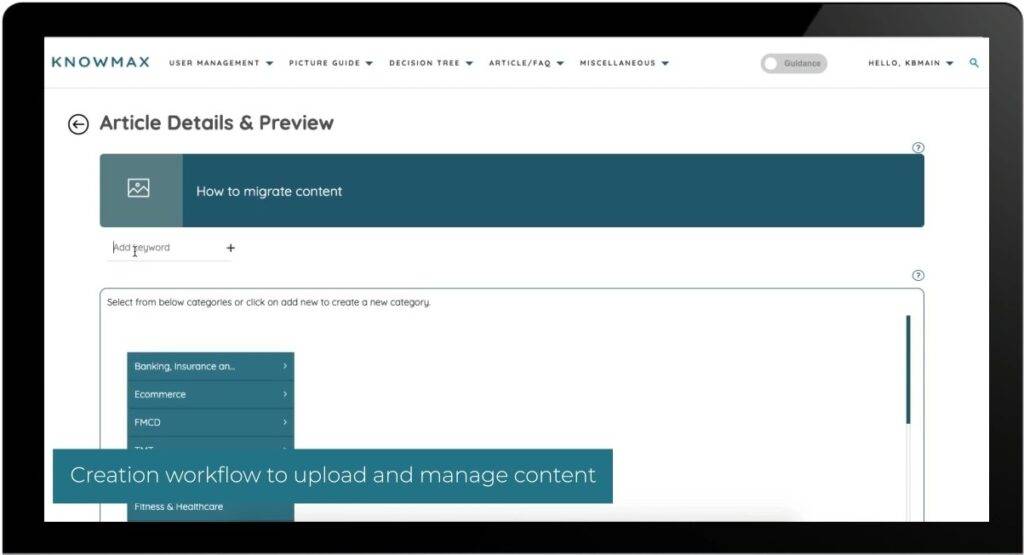 Save and proceed with your article.
Add the title to your article
Categorize insert keywords to your article.
Step 4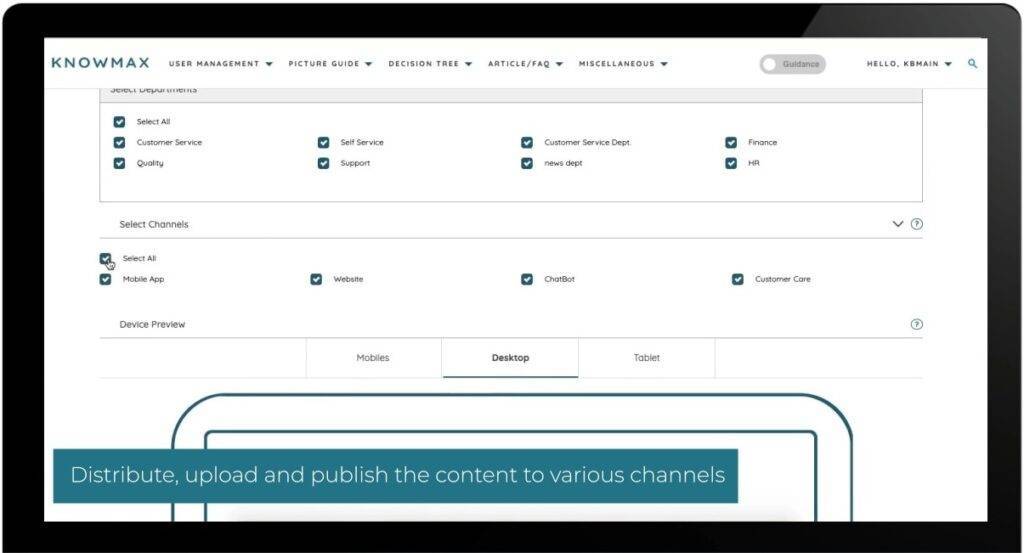 With Knowmax creating does not end after you save and proceed with your article.
Knowmax knowledge management system provides settings that allow you to direct each article to departments and channels.
You can also preview your article on devices.
Conclusion
Creating a knowledge base is a simple task with the right knowledge management software. Knowmax is an easy DIY platform where organizational information can be created and sent for approval with no difficulties. With the features Knowmax has, one can make a customer service knowledge base at the contact center, self-service channels, or both.
In a nutshell, the relationship between customer service and knowledge base is multi-layered and almost encrypted with interdependent characteristics. A good customer service knowledge base assures excellent customer service delivering maximum satisfaction, increasing the customer retention value. This helps a brand reach out to newer market venues and create a niche target group supported at the backend with skilled, trained, and equipped agents and experts.