Instant messaging is possible when your support teams are equipped with a knowledge base system. To solve specific problems, a knowledge base needs to be created and curated at the contact center. Read on to find out the perfect way to curate your live chat knowledge base.
How to curate a live chat knowledge base?
Live chat has the highest customer satisfaction level of 73% versus 61% for email support and 44% for phone. So to maintain this consistency in satisfaction, contact centers need to equip support teams with contextually correct information.
Constructing a live chat knowledge base is crucial for the quick delivery of information for support teams to give instant answers to customers. Following are 4 simple steps on how to curate a live chat knowledge base at your contact center:
Step 1: Get the proper knowledge management
Getting knowledge management system is the first step to curating a well-scripted knowledge base
Contact centers need to choose a future-facing knowledge base with AI and ML technology
Select knowledge management with tools that gel well with the live chat structure and vision you have in place
Step 2: Create scripts for live chat situation
To create scripts for a live chat situation, brainstorm the ideas with your support team
Those who interact with customer's first hand will know the correct phrases to make an instant connection to resolve any query
It is a mandate to consider your support team's inputs while creating live chat scripts for higher relevancy and customer satisfaction rates
Step 3: Link solutions within scripts
Maintain high customer satisfaction that link the customer to the resolution process
An all-around knowledge management lets linking of modules and media within the live chat knowledge base scripts created
Linking media attachments within scripts reduces time to comprehend the script and improve average handling time
Step 4: Incorporate feedback
Feedback incorporation from support teams should be a systematic process to your live chat knowledge base
Since live chats happen daily and happen in bulk, there might be a lot of areas to improve upon
Note all the areas lacking, prioritize the live chat knowledge base areas to change to focus on greater CX
Whitepaper: Best practices for knowledge management implementation in call centers
Download here
Benefits of Knowmax for live chat curation
A knowledge management platform helps curate a live chat knowledge base and improves the overall functioning of live chat processes. Knowmax knowledge management is an AI-backed platform that does more than just curate a live chat experience.
Did you know that automated chatbots can now fill the gap for live chat support teams? Through Knowmax, you can deliver automated chats for instant replies. Find out how Knowmax can help elevate the live chat experience below:
1. Automated live chat
69% of the customers prefer interacting with a human agent to chatbots on chat support. But did you know that some automated chats are so hi-tech that your customer wouldn't know the difference?
A combination of your AI bot and its access to the live chat knowledge base changes your live chat game. An AI-chat bot would access your knowledge base, and through Natural Language Processing, chatbots can talk just like humans.
Promote ticket deflection to reduce overload on your support teams by enabling the right technology powered by knowledge management software like Knowmax for better customer service
2. Decision trees
A decision tree is a graphical module designed for contact center support teams to elevate the customer experience. Decision trees can be used on chatbots for live self-service functions or by support teams during live chat.
Decision tree softwares have step-by-step workflows that help customers quickly get to the suitable resolution—decision trees aid in replying to the right solution to customers in as little time as possible
These guided decision trees are a perfect module for a live chat knowledge base as they are mistake-proof solutions that help with SOP adherence at all times. This means no skipping necessary steps even while instant messaging with a customer.
3. Visual guides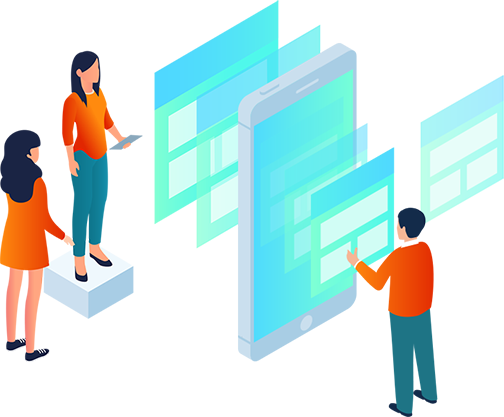 The human brain processes visuals 60,000 times faster than just plain text. Having said this, visual guides have almost become the perfect script backbones for live chats.
For a process where quick comprehending is a need, visual guides step in and aid in the form of visible steps, with image or video support. Visual guides are essentially step-by-step troubleshooting guides.
For instances where complicated software, appliances, or technology are involved, visual guides can be of great help. This is because they can be viewed not just by support teams but also shared with customers on live chat for better troubleshooting.
4. Co-browsing
Knowmax knowledge management platform helps with video co-browsing between the support teams and a customer to troubleshoot any problem in real-time
In co-browsing, customers share a live video through the co-browsing feature, and the support executive can mark on screen with a marker to guide the customer
This feature also includes a live chat option and video sharing making live chats more successful in resolving customer issues and improving FCR
5. Chrome extension
The Knowmax chrome extension widget is an extended feature of the Knowmax knowledge management platform that helps reduce changing tabs
This majorly helps during the live chat as the live chat knowledge base is available to the support teams in the widget itself. The support teams can search for any keyword within the Knowmax platform or open a search through this widget
For customers who expect instant answers, chrome extension is a widget that helps bridge gaps and reduces the time taken for support teams to answer customer queries
Conclusion
Live chats are a necessity for present-day customers. Many customers believe that live chats give instant solutions to their queries. With a knowledge management platform like Knowmax, do not just curate live chat scripts but revamp the live chat knowledge base and improve the accessibility of the knowledge base. Elevate the live chat experience for support teams and customers for improved ASAT and CSAT with Knowmax.