A knowledge base management system falls into the category of IT software. The system, in essence, contains software that is designed in a particular way to manage the knowledge a company has. In simple words, knowledge base management software helps an organization create, curate, and distribute organizational information effectively on all customer touchpoints.
A knowledge management system is a crucial part of the working of organizations today as it not only helps with external objectives but helps you improve from within your organization. The majority of companies would definitely prefer to use one now because of various benefits, which we will discuss as you read on.
Types of knowledge base management systems
A knowledge base management system streamlines organizational operations on digital as well as assisted channels. Let us look at a few functions of the knowledge base software internally and externally.
Internal knowledge base
An internal knowledge base is a content available for viewing within the organization and not available to the public. This means that all internal processes and knowledge required regarding that can be viewed.
This comes with a catch though, which is that data silos are created but in a good way so as to not put unnecessary information into those hands where it is neither useful nor create any new improvement. So information flow is transparent but access is given only to those who require it
As an organization might have to use several tools for knowledge repositories, a knowledge base management system precisely helps you manage all these under one platform by easily integrating with existing tools or with the migration of the information with no changes.
An example of an internal knowledge base could be articles for solving customer queries. An agent working for the organization can access this for support for the script while solving a query.
External knowledge base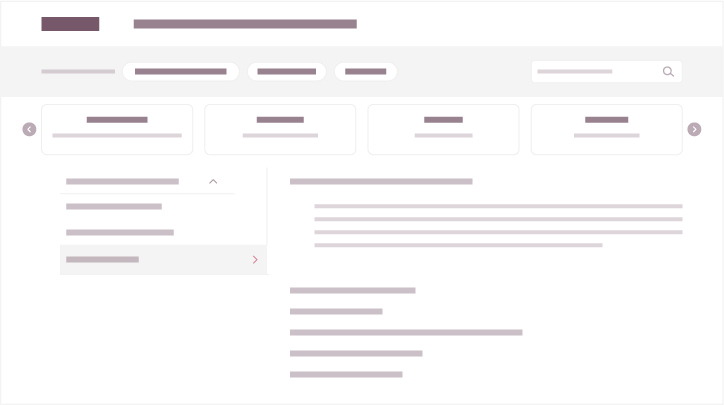 The external knowledge base is the content that is publically available on digital properties for customers to view. This provides self-service capabilities & customers can solve their own problems at their convenience.
The main idea of an external knowledge base is that it is easily accessible and also easy to use. The ease of application and use is what will make it rank better in terms of helping people who open any content get what they want to know from it.
The external knowledge base also helps reach out to people by segregating different issues under segments so as to avoid information burying. This in turn creates visibility and visibility would lead to the greater reach of an information source.
An example of an external source knowledge base management system could be FAQs. A customer looking for some information goes to your website and gets the solution on the FAQ page which means you have not only avoided a call with an agent but also solved the query.
3 Benefits of a knowledge base management system
A knowledge base management system provides multiple benefits for all faces related to your organization. It does not work linearly but like an interlinked web. This means that this particular software system thinks of all essentials of your business, not just your growth but the growth and experience of everyone connected to this source. We can look at a few benefits of this system in the following areas:
1. For your customers
Customers are king is what many organizations believe in. And it is right to do so because everything in the organization is done from the point of view of a customer. Every work entailed is for the customer to benefit from. So customer experience (CX) is one of the main things everyone looks for and it is exactly what a knowledge base management software aims to provide in various ways.
A knowledge base management software makes it easy for one to put out information for customers to access. Ease of access means agents call your call centers less. Fewer calls don't necessarily mean there is no improvement in the product but it could mean a sign of an improvement if you have an existing knowledge source that regulates content externally.
2. For your agents
Agents are those that drive your business to take it to the level you have envisioned. An agent's goals at some point are aligned with organizational goals. So an introduction of a knowledge base software system means making the agent's life easier to access information on one single platform. An agent benefits from the knowledge base software by accessing information with a click.
The action above is possible only because the integration of tools makes it easier for agents to find the right solutions for a customer asking a query. Not only this they can also reduce the time they look for a single answer because all knowledge bases are integrated on one platform and therefore making any information available hence decreasing their AHT.
3. For your business
A business's primary goal is to run smoothly. But to just say something needs to run smoothly isn't done. Something has to be placed in the working system of an organization to help the business flow as imagined. This is where a knowledge base software system comes in. It is one of those essentials to run a business smoothly.
Integrations on external and internal frontiers, data flow, and a collaboration of various teams remote and physical are made incredibly easy with a knowledge base management system. It helps with consistent growth and hassle-free information sharing across various departments in the organization making workflow as smooth as possible with time flow.
4 Steps to implement a knowledge base management system:
There are various steps to follow according to business-specific goals. The following are a few steps that can help a business, in general, to follow to make sure the system helps you reach maximum potential
1. the First step is to know your people. A knowledge base management system is the people who use it. So the best way to choose functions is to look at how information sharing is currently happening in the organization. Then look at what changes you want to make and how knowledge management tools can help achieve the goal
2. Second is technology. Absolutely no business starts from scratch without minimum software technologies in the 21st century. Technology enables the automation of several processes. So take a look at your existing technologies. And what tools of AI knowledge base can help most automation.
3. Looking at the larger structure is important but smaller structures too should be studied in terms of how knowledge is being managed and shared within the smaller and larger teams. A knowledge base tool that will enable creating and sharing of information should be determined from this and mold the knowledge base access.
4. The Fourth step is culture. A knowledge base you will implement not only decides workflows in the present or near future but also determines how the culture of knowledge sharing will happen in the organization. It is best to opt for tools that help you provide maximum transparency with long-term goals in mind.
Conclusion
After looking at what a knowledge base does externally and internally, its benefits, and how to choose one, we hope you have found the answers to the process of choosing knowledge management.
Once again a knowledge base management system is the most efficient way to grow in all directions department-wise and organization-wise while incorporating the interests of various role players in taking the business forward.