Contactless support
The post pandemic era has strongly changed customers' need for contactless support and self- service. With remote visual assistance provide solutions to your customers the way they would like to solve it in this contactless age.
Visual engagement
The best way to engage your customer to help solve problems is the mix of text and images.What is even better is doing this visually and helping customers through a step-by-step approach. Show exactly how a customer can do things by visual representation through screen sharing.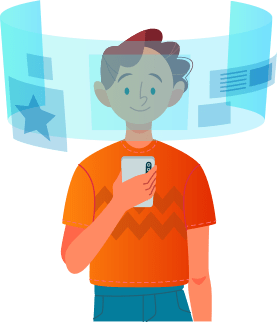 Co- browsing
Share expert advice from field technicians through the possibilities of co-browsing with customers' consent through camera access and screen sharing. Solving technical issues or difficulties through co-browsing eliminates unnecessary field visits and frequent calls for tech support. Co-browsing could help reduce support costs by large.
Annotations
Just text on image in video does not help customers. What really explains well are annotations for the steps to be taken by a customer to solve the problem. Visual assistance powered by AR helps highlight complicated technical issues with annotations through technology.
Mixed reality
The coming together of the real and augmented world gap the bridge that exists between call center support and field visits.You can do both through remote visual assistance. This means faster conversions and better first call resolutions that help in driving increased revenue per user.
What Our Customers Say

Knowmax, a Knowledge Management Platform has expanded our capabilities in terms of communication, information accessibility, and knowledge sharing about products and services with our end customers through digital and assisted channels using Picture Guides for pictorial support regarding various use cases, and their Al based knowledge base, becoming brain to our Chatbot "Saeed". This helps over 120 Contact Center Agents as well as our customers on Mobile App, ChatBot & Website engage with our brand regularly; pushing us closer towards our goal of going digital.
Turki Al-Farsi
Senior Manager-Process & Project Management

Exactly what we needed!! Completely understood our problem and provided a service that complemented our business perfectly.
Graham Duffy
Senior Operations Manager

Knowmax is an easy to build & maintain omni-channel customer experience platform. Our contact center agents found the decision tree navigation to be seamless making it to comprehend on a single page. Real time analytics helped us understand productivity & quality of our agents. Their customer success team was proactive and helped us during our on-boarding and later for on-going support. This has helped us in reducing AHT and drive Self-Service at NestAway.
Chirag Heda
Head of CX

Working with Knowmax has been an easy and hassle free experience. We got the solution which catered to all our requirements and the implementation was very quick! Special thanks to the team for being available for query resolution and support whenever needed!!
Manya Sharma
Product Manager, Milaap

Knowmax is the Device Knowledge Management Solution that Celcom has adopted. The Unique feature set for Picture guides, effortlessly complement its vast repositories of device information. Our customers have used this self-help tool extensively to solve their queries as Knowmax is integrated with our Celcom Life App, reducing the volume of tickets for our CX teams. Knowmax's robust functionality and the ease with which we were able to generate user reports have set this platform at an advantage over its competition.
Noorazimi Jamari
Journey & GTM, Customer Experience
Remote contactless support that increases CX
Contactless support isn't just a trend. Brands in today's world are successful if they provide customers with the type of help a customer demands, especially contactless support. As a CX head it is important for you to ensure top-notch contactless service for customer satisfaction. Knowmax's visual assistance software helps you provide customer support remotely using AR over virtual support calls. This helps increase productivity and decrease support costs.
Numbers that make us proud & our clients profitable
90%
Call quality at
contact center
73%
Successful chatbot
interactions
12%
Improvement in call
documentation
6 Months
ROI achieved &
savings post that
Our expertise in industry driven framework
FAQs
How can brands use Remote visual assistance?
Brands can connect with customers through unique interactions possible only through Remote visual assistance. The assistance makes the user experience interactive and memorable.
What is the difference between Virtual Reality and Remote assistance?
Virtual Reality uses a specific device to immerse oneself into another universe. One can access Remote assistance from any mobile device and interact with it, making it ideal to use for customer support.
How does Remote visual assistance help in customer service?
Remote visual assistance enables self-service through technology. This helps resolve solutions quickly and without the customer having to make a phone call for help. You can make this technology available 24 x7 to users.
What are the types of visual support used in customer service?
You can use broadcast AR and Screen AR for customer service. Visual, video and 3D projection help the customers to navigate the portal by themselves. Customers may type in the query to select the most appropriate solution.
Which industry is best suited for remote support?
Recently Industries like education, healthcare, and e-commerce are increasingly leaned towards the use of AR support systems. AR isn't industry-specific and can be used in any industry. It is customized and designed to the organization's needs.
Does AR support increase CX?
Groundbreaking and engaging AR solutions are effective in creating an impression on users. This along with providing the right solutions leads to a satisfying customer experience.