The manual processing of documents spells significant losses for companies in the form of operational costs, storage requirements, lost paperwork, time, and effort. Document management systems (DMS) are applications that leverage a strategy called an enterprise document management system (E-DMS) to cut down on these costs. They do so by digitizing the storage, retrieval, and deletion of vital documents.
What is an enterprise document management system?
Enterprise document management is a strategy that helps organizations define:
How long they must retain certain documents?
How long they must retain certain documents?
How data can be shared amongst stakeholders and employees?
How documents can be retrieved quickly?
How data can be recovered in the event of deletion?
By implementing a concise plan for document management, businesses stand to employ more efficient workflow processes, enable faster dissemination of information, instill a 'self-service' learning culture, and improve transparency in all facets of operations.
At its core, an enterprise document management system reduces operational costs associated with the need for physical storage, while also reducing the time and effort required to retrieve data.
Using enteprise document management system to overcome challenges
Organizations across industries rely on documents to facilitate their workflow. However, studies show considerable loss of productivity simply because of document search and retrieval issues.
In fact, according to M-Files' last published report, – The intelligent information management benchmark report, the challenges of document management aren't limited to searching for the right documents. An inefficient system contributes to workflow challenges while reviewing, approving and signing too.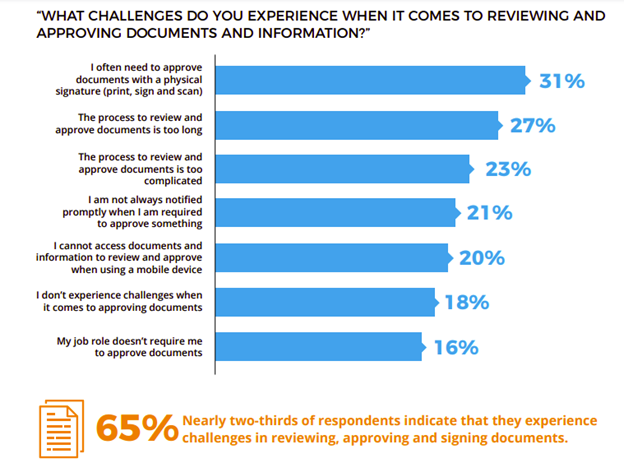 Today's workforce expects organizations to make data available on mobile devices so that they can work on the go, or from an off-site location. In fact, 8 in 10 employees say they need to access corporate data on their mobile devices, while 62% employees say that they are unable to find the data they need when they use their mobile devices (see figure 3).
Organizations that rely on using physical paper fail to meet these expectations, making it harder for newer generations of the workforce to be at their most productive.
Organizations handling sensitive customer data naturally prohibit the use of file-sharing apps and personal devices. A document management system offers the perfect in-between – it lets leadership rest easy regarding the safety of data, while also allowing employees to access documents virtually.
With remote working becoming the norm, organizations must identify an effective means to share crucial documents without opening themselves to the risk of cyber-attacks. Most enterprise document management systems use complex security protocols to ensure the safety of your data at all times.
Identifying the document management system you need to use
Whilst identifying the right document management system for your needs, you must first identify the mode of operation that suits you. Typically, enterprise DMS has two main operational variants:
On-site enterprise DMS: As the name suggests, such enterprise document management systems allow organisations to store data on their campus. Organisations must leverage their own servers to use such systems.
Cloud-based enterprise DMS: Organisations with a largely remote workforce can benefit from using cloud-based DMS as employees can access documents even when not physically present at the campus.
Features
On-site enterprise DMS
Cloud-based enterprise DMS
Accessibility
Do not rely on the internet, which means you can access data even when the internet is down.
The onus of ensuring that the data is accessible is on the service provider and not the organization.
However, poor internet connections can make accessing documents challenging for employees.
Set up cost
Organizations must shell out large upfront costs to implement the system.
The set-up costs are much lower when compared with on-site enterprise DMS.
Data security
Organizations can exercise more control over security.
Data security must be ensured by the service provider.
Backing up files
The files must be backed-up frequently as the same does not happen automatically. Thus, there is a higher risk of losing data during an unfortunate event.
The files are backed up to the cloud automatically, which ensures that even during an unfortunate event, vital files are not lost.
Features of a good enterprise document management system
While most organizations have identified the need for enterprise document management, the challenge now lies in identifying the right system for your business. The software you choose should have the following features:
Document classification: As stated earlier, 42% of employees find it challenging to find the right document due to classification or labelling errors. A good enterprise DMS helps standardise document classification by auto-generating metadata once documents are made. Shifting the onus of accurate naming from the employee to the software can reduce human errors and the loss of time due to the same.
Keyword search: Finding the right document should be as simple as possible. To facilitate quicker search and retrievals, the software should allow employees to search via keywords and then display related results.
Document editing: 83% of employees end up losing time retrieving the right version of the document. A good enterprise DMS is one that not only allows employees to edit and update documents but also does so in a manner that displays updated versions first. It's important to note that the system should also allow employees to retrieve older versions of a document if required.
Document sharing: Sharing data in-house, with clients, and stakeholders should also be facilitated by the DMS.
Security: Finally, the enterprise document management system should also leverage the latest security tools and software to ensure that only the intended users can access vital data.
These base features can allow organizations to meet their most demanding needs pertaining to storing, retrieving, editing, sharing, and deleting documents. The software you choose should be further customizable to meet any additional needs.
Applications of single platform for managing documents, records, and team collaboration online
Enterprise document management is a strategy that applies to almost all industries as it facilitates a more optimized workflow.
For instance, customer service representatives who need access to updated product brochures or troubleshooting manuals can do so while on-call when there is an enterprise document management system in place.
Similarly, many companies that rely on customer service utilize customer service scripts to ensure that all calls are attended to with the same efficiency and professionalism. These scripts are updated regularly as managers review recorded calls and identify better strategies to ensure that the customer is satisfied.
Accessing customer service scripts for different scenarios is much easier when there is an efficient document management system. Not only can such systems help save time, but they also guarantee access to updated files, as opposed to older, outdated ones.
Thus, it's fair to say that enterprise document systems have endless applications for organizations across different industries that must offer robust customer service. Every organization relies on documented data in different forms, and can certainly benefit from implementing an organized system for all their documents.
Conclusion
An enterprise document management system helps organizations improve productivity, workflow, and even talent retention, by virtue of the fact that satisfied, engaged employees are more likely to stay loyal to the organization itself.
With endless merits associated with using an enterprise DMS, it's imperative to identify when and how you should start making the switch from physical paper management to using digitized software. To know more, get in touch!