Organizations that integrate knowledge management tools stand a far greater chance of navigating rapidly changing global markets successfully. This is because knowledge management integration empowers organizations with consumer knowledge and insights that help cut through the noise, letting them focus solely on growth.
How does knowledge management enhance existing business processes?
Within the organizational context, knowledge is a catch-all term, comprising data, information, human insights, and best-practices. In other words, it is exactly what your teams require to function smoothly.
While older business process management systems have leveraged data and information in the past, leveraging knowledge itself is a newer, far more efficient concept. In fact, knowledge management system can help with: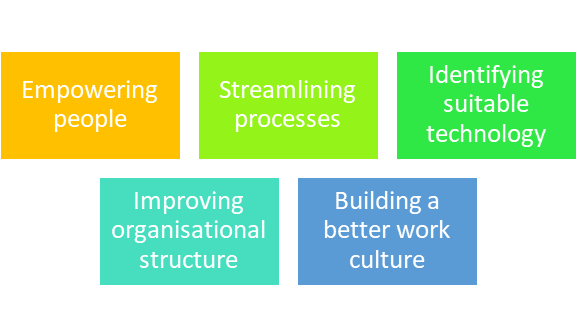 1. Empowering people
Insights and technical know-how gleaned over the years facilitate better brainstorming and process integration.
When you integrate knowledge management software in place, you ensure employees can enjoy access to peer-published project reviews, studies, reports, ideas, and more, ensuring that no matter one's work experience, one has the right tools to succeed.
Empowering employees goes beyond just knowledge migration and smoother business processes – it instills a culture of engagement and intrinsic motivation within the organisation itself. Knowledge base integration allows employees to grow faster and be more productive.
2. Streamlining processes
Knowledge management integration can help you streamline organisational processes by allowing leadership to identify the most efficient approach based on other's information.
This is crucial because when employees do not have access to pertinent knowledge, they rely on trial-and-error based methodologies, arguably wasting organisational resources while doing so.
3. Identifying suitable technology
One absolutely cannot deny that most enterprises rely on technology to succeed in today's market. Whether that means using the correct automation tools, CRM software, or data collection tools, organizations can only stand to benefit from choosing ones that suit their needs the most.
Knowledge base can help in this regard too. Having Machine Learning (ML) and automation as a part of its offerings, it empowers organizations to leverage the latest technologies and emerge miles ahead of the competition.
4. Improving organisational structure
As new generations of employees enter the workforce, organisations must pivot to meet their unique needs, lest they fall into a trap of repeated hiring and employee attrition.
Surveys have indicated that Gen Z employees prefer learning whilst working – with 51% stating they learn through examples the most. Knowledge management brings pertinent examples of other organizational projects and learnings, helping employees boost their skills while on the job.
However, to successfully integrate knowledge management, organisations require structural changes to meet the demands of Gen Z employees. Structures that promote cross-discipline awareness are certainly the need of the hour.
5. Building a better work culture
The notion that most high-level organisations thrive on office politics and safeguarding one's knowledge is a thing of the past. Or, it certainly must become one if you are to integrate knowledge management – a system that challenges and stands for the opposite of this notion!
Your organisational culture must now be built on the foundations of learning and sharing knowledge. Failing to do so will contribute to an inability to meet market demands in the long run.
Integrate knowledge management systems to transform your contact centers!
The internet's penetration into the Indian market has ensured that today's customers are more aware of their needs, as compared to decades earlier. As a result, the customer service sector has grown tremendously over the last few years.
In fact, 49% of customers have made impulsive purchase decisions after a successful interaction with a customer service representative.
Furthermore, studies by PWC indicate that 89% of customers are willing to pay higher prices for better customer service experiences.
The following figure represents the average customer spending per country increase after companies implemented a more wholesome customer experience strategy.
Knowledge base integration brings live agents all the information they need at a single click. As a result, they can have better customer interactions, focus on offering personalized help, and even retain the customer as a permanent one.
When you integrate knowledge management, you transform your contact centers in the following ways:
1. Lower handle time
Live agents are expected to hit predetermined daily targets. However, when one cannot predict the average length of a customer interaction, achieving preset goals becomes harder. Knowledge management integration can help lower handle time significantly.
With information at their fingertips, live agents can follow a proactive approach, troubleshoot faster, and offer solutions quickly. This not only decreases the average handle time, but also results in a satisfied customer.
2. More customer satisfaction
One of the primary reasons to integrate knowledge management is to improve customer satisfaction. Using AI features can help agents identify patterns in behaviour while also determining their needs.
As a result, agents can offer solutions quicker and enjoy better CSAT scores in the process.
3. Suitable content for better customer experience
Market competition has resulted in fickle customers, and a single negative experience can result in customer churn. When you integrate knowledge management, you ensure that your live agents are equipped with the most suitable content that guarantees a positive experience.
4. First call resolution
Through knowledge management integration, you can make sure that live agents have access to data pertinent to different touch points. This results in an increase in first call resolutions, which means customers don't have to come back with repeated queries.
The simple act of helping customers save time and effort can be enough to guarantee a repeat purchase, and long-term loyalty.
5. Lower human errors
Finally, knowledge base integration also helps minimise human errors. By offering your team content, and verifiable solutions, you cut down on the time an agent takes to handle a customer. Moreover, scripted content ensures that live agents never come across as unempathetic or rude.
With informational support and data availability, agents are less likely to offer inaccurate solutions.
Integrate knowledge management for an undeniably great payoff!
Studies show that there is a 45% reduction in customer queries over telephone lines. More live agents now spend their time using advanced KM tools to solve queries online. The result is lower employee burnout, better brainstorming, and more motivated and productive employees.
Organisations can also stand to benefit from reducing their operational costs once they integrate knowledge management.
In fact, Hubspot research indicates that as companies must only pay for server costs while using automated chat bots, the cost of solving customer queries is a mere 25 cents (approximately INR 2) once the knowledge base integration is complete.
Companies that have integrated knowledge management also witness a 54% increase in web traffic, along with a corresponding increase in sales. This is primarily because chatbots and live agents can help answer a broad spectrum of questions from the customer, facilitating a purchase.
Finally, when you integrate knowledge management tools, you save on the cost of onboarding new employees. With training expenditure per employee being as high as $ 1,186, this can mean a large chunk of annual savings for organisations.
Conclusion
Integrating knowledge management can transform your organisation into a self-sufficient one that enjoys great customer satisfaction and higher profits. In a demanding market where competition rules the roost, this can mean the difference between survival and total collapse.
To know more about integrating knowledge management tools for your organization, get in touch with us today.