3 Common Misconceptions About Customer Service
MYTH 1
Fewer complaints are better
Customer complaints are good for business
If customers are "complaining" about your product/services, that means people are actually using your product. 
Yes, you guessed it right! The reverse is true: if no one is complaining about your product, most likely you have silent and unhappy customers who may have moved or about to jump to your competition.
When customers stop calling, revenues drop. But when the phone is always ringing and email inboxes are full, that means more customers plus more revenues.
SOLUTION: Think on the lines to make resolution faster & effective, encourage customers to give feedback.Open options to make it easy for your customers to give you feedback. And when the phones ring or your inbox is fast filling, make sure you equip your representatives to resolve it in a single call or send solutions in a jiffy .
MYTH 2
AI will replace human(s in) support
AI-based knowledge management solution makes both humans and machine intelligent
Although businesses can automate service desks and customers can self-serve through online support, that doesn't eliminate the need to have live agents available to talk with customers. Gartner predicts one-third customer service interactions will still require the support of a human intermediary. Thus, the way forward is to provide knowledge to both humans and machines.
SOLUTION: Think on the lines to automate repetitive concerts. AI-backed bot easily resolves common customer queries and makes it easy for service agents. Knowledge management makes chatbot more efficient and reliable to enrich digital experiences and power human-like exchanges between customers and your brand
MYTH 3
Customers care more about price than service –Keep your price low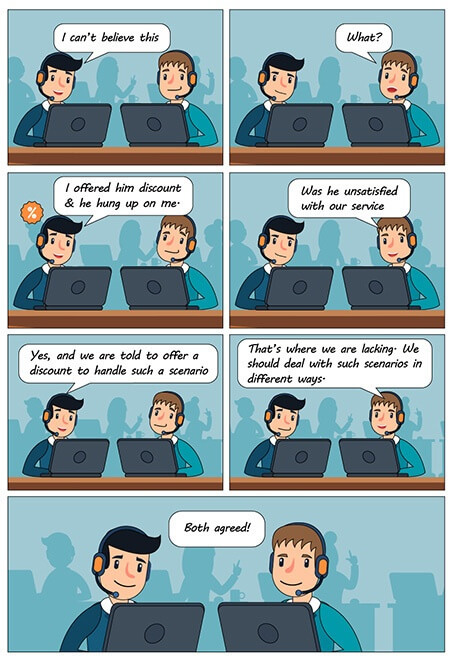 Customer experience(CX) is the top priority
Businesses actually believe & live by this myth if not for all geographies for most. Customers are always willing to pay more if they feel valued and witness an exceptional customer experience (CX). Studies show that focusing on providing a superior experience results in a 10-15% increase in revenue.
SOLUTION: Create interactive guided workflows for accurate resolution and process implementation. A no-code DIY platform is the perfect answer which empowers agents with the next best steps
Conclusion
In summation, with sky-high expectations from consumers on customer care, their satisfaction is critical to a business of any size. If your business is not getting queries from consumers, it might be because consumers do not believe customer care would solve their problem. It is on you as a business to stimulate or encourage reviews and feedback from your consumers. And you must do so to understand the preferences of your consumer base. Understanding this helps improve and give your customers an exceptional customer service experience. Did we miss anything which you'd like to debunk? Let us know.
Did we miss anything which you'd like to debunk? Let us know.