Learning and development: Brace new realities with Netflix and chill
Posted On: September 10, 2020 | 9 mins read

144 Views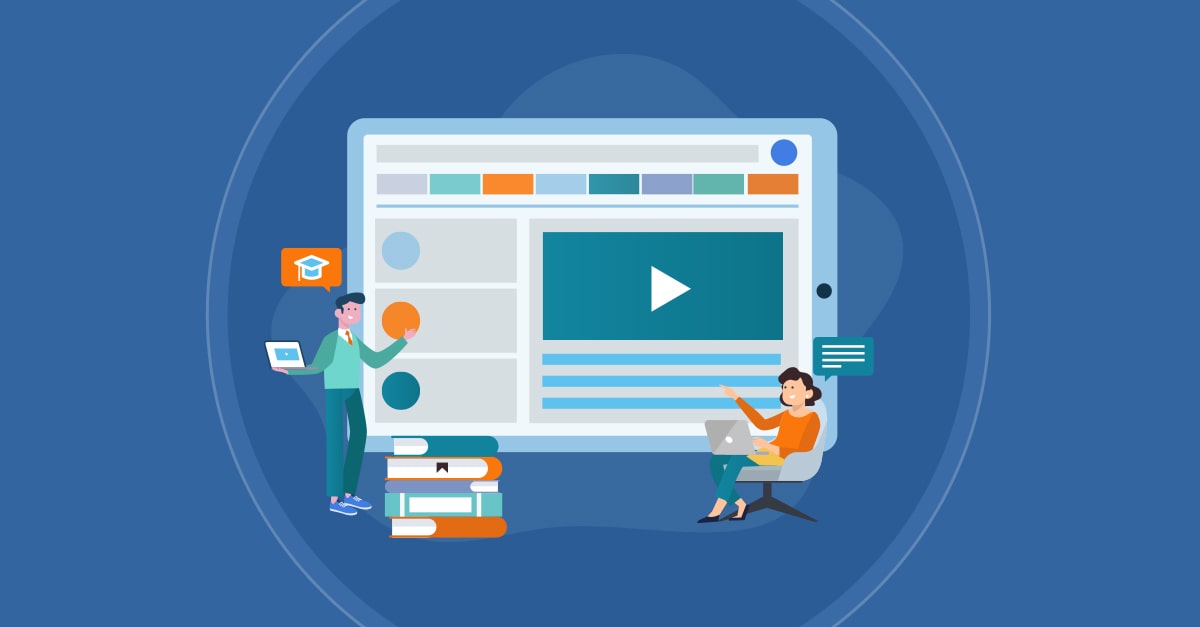 Learning and development are about expanding the horizon of one's education and awareness. However, we also know the first thoughts we have while discussing learning is a high piling deck of knowledge: monotonous and tiresome! Next sentence though might not be so sore to the eyes. Solution to a regular learning module is learning with Netflix approach.
Well, you read correct- Netflix and chill is actually the solution for renovating your old-school teaching methods. Indulge the users so deep that they would rather love to binge than to scroll for nothing. A major challenge these days is to keep users hooked for at least an average session time without them switching platform pausing the course in middle of some lessons.
Training online is like running a series. Your streaming can be said successful only if your audience stays hooked till the end and if you deliver a take-away value. A series becomes a buzz on social platforms only if it has some keypunches, tells the story, establishes a premise, and has continuance even in a non-linear approach. This induces viewers to stick at least till the end of this episode, gamble for one more episode, all the way until it is just this season, and then #binged_the_series.
Netflix started as a DVD rental and soon figured digital entertainment as their way ahead. What made it successful and rule the market was to study user behavior and develop content that was just irresistible. It was winnowed strictly per user expectations but the story does not stop here. They went ahead and served with exclusivity, built brand, and got their viewers so addicted to their content that it got to the brains. This is exactly when Netflix stopped seeking what viewers want as now viewers wanted to know, what more is in the store for them.
Netflix, even today stands as a standard in marketing, satisfaction, magnetism, and entertainment. The urge a user has is more than enough to establish need and relevancy of Netflix approach in learning. Your viewers certainly are inclined towards learning more and might also prefer flexible hours, which is why they choose eLearning in the first place. Courses developed must offer a wide spectrum of lessons to choose from though maintaining a hierarchy on the basis of relevancy and levels.
On the basis of relevancy
1. Most viewed
2. Recommended
3. Related
On the basis of levels
1. Starter
2. Median
3. Advanced
Use case
By moving from physical classrooms to corporate e-learning tools, Dow Chemical saved $34 million and reduced its training course costs from $95 per learner to $11 per learner.
Airbus has 100,000 staff across 35 countries. Through establishing an e-learning library with more than 6,900 pieces of content, Airbus cut down training costs by millions of dollars. This change had a positive effect on employee engagement & satisfaction levels.
Numeric-alls
1. 87% of millennials and 69% of non-millennials consider career development to be an important part of a job.
2. More than 41.7% of global Fortune 500 companies use technological assistance to help train their employees.
3. Since the year 2000, the growth rate of the e-learning industry has been 900%.
4. E-learning increases retention rates by 25% to 60%.
5. According to e-learning industry statistics, the MOOC market is currently worth $5.16 billion. It is projected to grow at an annual rate of 32.09% until 2025.
While Netflix allows you to mark favorites and download shows for offline viewing, your learning management software too should allow you to bookmark important lessons and interact with creators of the course by means of rate and comment feature. A widget facilitates users with quick access to their lessons; many times helping them to pick it up at the exact point where it was left. A widget is also a symbol of loud yet silent interaction with minds of the learners. Learning management platforms function through digital devices. While a notification from any other app is the easiest deviation, a widget is a constant reminder of an incomplete training session.
Netflix, as stated earlier, is highly dependent on the statistics recovered from its end users. This outpour of response can be in form of fan theories, movie reviews, and social media and community forum interactions. It can be both direct and indirect with the app handlers or with the team of the content piece. Using Netflix approach means that learning hub in question too should promote such interactions and be an active part of the same. It helps in drawing an image of the course while helping trainers to ascertain best order of division. This division can pertain to dividing students into batches based on learning, knowledge, or interest.
Imparting knowledge too is a form of communication and tends to remain incomplete unless a two-way street is traveled through. While students/trainees are expected to sit through tests and quizzes proving successful reception of knowledge; the results of these tests must be exported in form of reports to their supervisory officer. An in-depth analysis is thus carried out establishing a link between the quality of knowledge, training, reception, performance, and yield. Accurate result generation ensures superior employment owing to the fact that every hire is backed by qualitative and quantitative figures originating from an extensive training and analytics program.
Impact of Netflix approach on learning and development
Online learning is most affected by the long form of content. Such in-depth is hectic knowledge to read and understand, let alone jot down key highlights and take notes. With a large user base, brand image built over the years helps Netflix pierce through minds of its users and engage them with a user-friendly interface. A good learning management system should essentially have a user-friendly UI and engage visitors as soon as they enter the forum. They must have trust in the quality of knowledge and must be given breathing space to clear their minds about any doubts as and when they arise.
The trainees must be catered to with the knowledge that is based on verified facts and derived from industrial data. It must be relevant in the growth of the user both professionally and personally. Any loophole, when pointed out should be mended soon. Knowmax offers a customizable platform that allows having offline content, cloud accessibility, relevant knowledge pop-up, and notification on introduction of new content.
Each content is a masterpiece combined word by word under close supervision of product and content experts and guided all along by training and subject matter experts. The performance of agents and employees after initial training is taken into consideration before moving on with next round of operations. All results are scrutinized and any speculation that won't find a basis is dismissed. Knowledge base integrated can be in form of sheets, documents, PDFs, media, and links. Interactive knowledge opens doors to creativity while intuitive knowledge helps in gaining employee's trust and making them more aware, involved, and loyal to their jobs.
Employees are usually expected to deliver extra and step ahead while handling customers. Empathy and soft skills too are important alongside professionalism. To induce a work-like front in minds of organization's representatives, it is absolutely essential to train them with it. The training sessions must consider everything right from complaints to appreciation and welcome both suggestions and criticisms with open arms.
Categories: