Learning management system: The key to modern eLearning with KM-LMS concept
Posted On: September 8, 2020 | 9 mins read

149 Views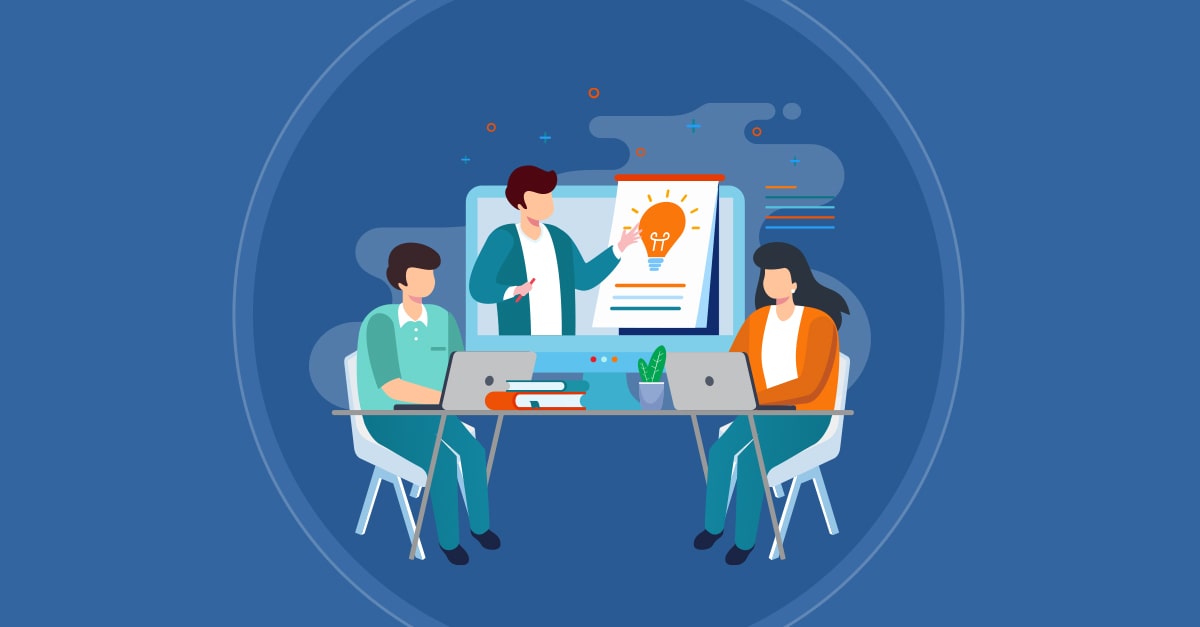 Your employees have been performing stellar. Business is expanding, finances circulating great, and to top it all, your customers are nothing but in awe of your service quality.
The above mentioned time is the dream stage for every piece of business ever started. However, reality hits harder than dreams. The world is a constantly changing hub of techniques, tastes, and requirements. An ideal organization must, thus, always focus on getting the best for their customers.
The first step towards serving customers with the best is to equip your employees with best solutions as well. A good learning management platform is thus designed to anticipate the needs of its users and recommend material likewise. The interests of the employees are fully served with a course that has all that's needed to know covered.
How can eLearning be made more interesting?
It is not new that books are the quickest source of sleep! Learning can become as inflated as it has; and to separate it from adjectives like boring and tedious requires thinking out of the box. While rising bars and increasing competition makes it essential for the employees to keep themselves aware and updated about the job and its requirements; the onus of creating a detailed, informative yet engaging course material falls on teaching experts.
Creating interactive knowledge helps the organization keeping alive employees' interests in elearning thus progressing career-wise. They can select courses and levels. This keeps them engaged and hooked on with learning programs.
An employee taking responsibility for job and interest in making their performance and output better is a golden state for the employers. The coaches can regularly check progression charts to see who deserves to be the face for raising standards of services yielded.
Customized LMS supporting elearning
Learning management system by Knowmax can be integrated with training platform for any industry at all levels. A customizable framework helps the experts render their opinions and thoughts in a streamlined manner so as to help the employees 'get the best from the best'.
The users can have a widget of LMS platform for single-click access and bookmark the important lessons. The course creators can work on making a friendly appearance as opposed to an over-burdened front. Courses and lessons should have a vivid visual hierarchy to ensure step-by-step elearning for the user in a chronological manner.
Benefits of learning management software
Pervasive distribution
The content so created can be distributed to all teams and departments through any medium. When your human resources are scattered, an omnichannel approach helps training all in unanimity without extra efforts or costs getting included. Simple access to internet services helps field and retail teams to stay functional 24×7.
Progress analysis
Knowmax has a dashboard particularly dedicated to tracking the progress of employees. The charts, reports, feedback, etc generated help trainers to track the KPIs thus ensuring team performance. Performance in quizzes and regular tests too are tracked and analysis can be run.
Customization
Learning management software can be easily designed as per the needs of the training program. It is important for employees to imbibe brand tonality and market image to convey the same. Gamified knowledge can be presented with use of decision trees and visual guides.
Industry-wide application
E-learning can help users in learning and growing at their job designation irrespective of the industry. This is due to the fact that knowledge created under Knowmax is specific in nature. An entire team of SMEs is dedicated to studying the industry, market, and product.
Pocket friendly
Creating LMS that sticks to your process closely can be an expensive affair. Each document will have to be researched, documented, designed, and circulated. With Knowmax, a complete DIY approach is followed to ensure that users are the critics and trainers are creators.
eLearning knowledge base in figures
Learning management system and industrial application
Telecom
Telecom industry requires media and ISP providers to connect with their customers on a personal and solve their queries. Knowmax maintains a ready and updated repository of visual solution guides for over 18000 devices with cloud accessibility to the permitted.
Finance
Finance industry requires a whole lot of exposure, experience, and expertise. The volatile nature of quick updates requires timely circulars. Employees must be trained to work under high pressure and a good LMS helps them cut through chase straight into excellent service delivery.
Healthcare
Modern-day healthcare services are using technology in an increased manner with video consulting and screen sharing. Smart devices being used require training and installation guidance. With LMS the employees can be given distant training under expert supervision.
Education
LMS in education industry is for both students and teachers. Massive options in a variety of courses are available to improve the learning spectrum of the users. Education today is the most dynamic activity and thus requires experts who understand the value of psychological interaction of content.
Hospitality
Hospitality industry hosts multi-disciplinary jobs. From travel to accommodation and food & beverages, employees must have high patience and serve the customers. A good LMS is required to cover all aspects and train the employees with both job and soft skills for better customer engagement.
Key highlights of Knowmax's eLearning guide
      Export of feedback and analysis reports directly to the supervisor
      Tracking progress through quizzes and tests for regular update of learning program
      Entirely DIY content creation for trainers with a no-code needed customizable design
      Splitting learners into batches and course into lessons and coaches
      Intuitive knowledge creation with tools like decision trees and visual guides
      Industry and process oriented study material catering direct needs of clients
Conclusion
eLearning via various channels might be the advantage of open source knowledge, however, having an entire repository of required knowledge, verified information, classified data, and relevant content over a single platform is character trait of the LMS in need. The industrial standards for yield expected at job today are high as the stakes associated with each employee's output are higher.
30% of L&D professions aim to incorporate simulations and games by the end of 2020.
Companies are now focussing on personal and professional growth of their employees to assure them being associated as retained assets for longer durations. Employees too want to polish their skills and beat the cut-throat competition they are all part of. Having in-depth knowledge is another way to fulfill job requirements with diligence and an organization's contribution to the same is the appointment of experts with a group of fresher employees until they are trained to blend well with organization's policies, brand tonality, market presence, technical aspects, and so on.
A good learning management software thus is not about manufacturing humanoids. It is about striking a balance of workload and responsibilities amid bots and agents and help them co-exist. A profitable ROI, higher CX, improved CSAT, enhanced UX, and better time sessions for customer engagements are all KPIs indicating a successful implementation of eLearning program.
Categories: