The essentials of customer service etiquette
Posted On: October 20, 2020 | 10 mins read

81 Views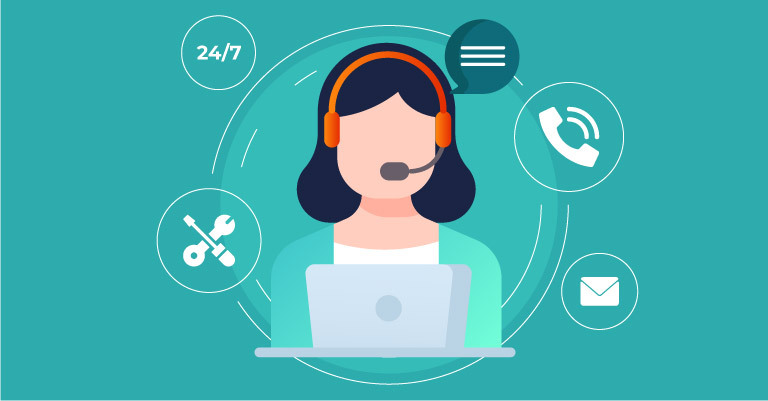 Customer service etiquette is one of the major selling points for any organization over multiple fronts. It is thus essential for the organizations to pay attention to every small aspect of the subject and leave no stones unturned.
What is customer service etiquette?
Customer service etiquette refers to tips, dialogues, and tricks administered to the support staff and telecommunication script to make customers feel at ease while resolving their issues and without a negative induction of anxiety or offense. This involves being prompt in responses but primarily listening to the customer in and out with full concentration and note down the complaint, its key points, and probable causes of the issue especially if the conversation seems to be going off script and off the manual books as well.
Customer service etiquette stats
70% of customers' journey is ruled by the experience they build from the treatment received at the support desk.
79% of the potential leads can easily drop off if their brand is not understanding their needs and taking care of the same.
42% of the customers are standing at the very edge of switching brands by toes due to rude and/or unhelpful staff.
The statistical presentation above is not just a couple of numbers showing the quantifiable impact of customer service etiquettes; it is instead a foundation for the education of your subject matter experts, content team, and human and automated channels into an understanding of the dynamics of human behavior.
Importance of customer service etiquette
Customer service does not hold its merit merely in a contact center or a BPO. It is a rather universally applicable term that must be presented on all fronts and in every industry.
A proactive customer service etiquette induction helps improve customer responses by 3-5%.
A customer selecting goods off the shelf in a mart or collecting a package from the counter in a small retail outlet; each transaction that provides has consideration, offer, and acceptance amongst one host party and various other transacting parties on an ongoing basis makes up business and requires a good customer service etiquette on behave of the dealer and their agents of sales as well.
Customer service etiquettes an essential also when your customer asks the intricacies of your product and also when they raise a complaint about any aspect of your merchandise and services offered. Good etiquette builds a positive brand image and the abstract of great treatment shall continue to startle the customers each time they encounter personnel. This makes the customer experience more personalized and an asset to the organization's goodwill in the open market.
Best 7 tips for customer service etiquette
1. Listen carefully to each word
Each word spoken by your customer must get registered with you. They might be trying to explain the problem precisely enough while you might not be concentrating. This leads to loss of time and effort both on the parts of customer and agent as all they will end up doing shall be a step in a blind alley.
2. Think before you speak
The customer is utterly distressed and any word you say that sparks anxiety or anger in them shoots the entire conversation down. Give only verified solutions and be practical in your approach. The agent might not have a concrete solution or a way out at all; at which point the agent must honestly inform the customer of their wait period.
3. Give a personalized touch
Address your customers by name and read out the issue to confirm before starting to enact on it. The personal touch makes them comfortable and opens up as the users today don't entertain being called tech junkies and an issue that needs external help to solve makes them feel so. Don't leave long gaps in conversation and initiate a two-way stream of dialogues.
4. Train agents for adverse situations
Callers at the other end of the line are humans. Whether they are being handled by automated bots or by agents, the type of query and resulting temperament is always unpredictable. Agents should thus be trained in advance and given mock lessons about identifying various tones and controlling the conversation even before it starts to slip out.
5. Be gracious while saying "no"
Customers want to hear a yes-man. They want the company to know their problems and get it resolved with a sorry face on. Such situations might arise where the agents might not be familiar with the issue or might not have a solution to their problem at all. Agents must say "no" that sounds like "stay in touch and we will be back shortly".
6. Take regular feedbacks
Feedbacks are an essential part to end a conversation without ending the customer-organization relation. Know what your customers need and where can you minimize the gap between demand and supply using your regular supply chain. Good feedback forms the backbone of the relationship between the client and the organization.
7. Organize regular follow-ups
Regular follow-ups need not be confused with feedback. Follow-ups are more like updates and notifications about recent developments, policies, and schemes for one-time service seekers to stay in touch with. It ensures the establishment of trust, support, and confidence of a customer in the customer support helpdesk and service quality.
The support from the contact center remains to be the oldest and most trusted form of support by far in customer minds. This also raises bars of service level for agents to keep the image of positivity intact.
Some of the essential customer service etiquette to be traced is as follows:
Phone call etiquette
Always answer the call within the first three rings
Do not rush to greet the caller or to wrap the conversation
Listen to the entire problem in detail
Keep solution ready while the problem is being explained
Encourage feedback towards the conclusion
Ask for the caller's permission politely before putting them on hold
Never exceed the hold time for more than two minutes
Call the customer back with concrete solutions in cases of excess delay
Mailer support etiquette
Attach the subject as a phrase to provide context to the mail preventing spamming
Use layman language to communicate the solution
Do not overburden the mail with loads of links, multiple fonts, or elevated color tones
Attach CTA buttons for readers to interact on a real-time basis
Use mild follow up instead of postponing actions to "never" in term of lead conversions
Mail is not chatting; maintain a steady and formal tone in text
Keep a log of all mailer conversations in respect of time, locality, engagement, and reach.
Chatbot support etiquette
Keep an integrated knowledge base ready
Use the technology for a solution and not just show it off as an accessory
Put digital front to best use indirect communication
Use AI chatbot for accurate, simple, and speedy solutions over self-service platforms
Direct the queries immediately to experts if it remains unsolved by the ML programmed bots
Use CTAs and tabs for visitors to search solutions supported with an easy and interactive UI
Social media etiquette
Reply in polite most tone as you are a publically communicating
Reply as soon as possible to avoid your competitor from swooping in the scene
Engage in a healthy message thread with competitors for transparent marketing
Defensive replies are good but restrain indulgence in any offensive comment or reply
Use the net "lingo" but stick with grammar and netiquette throughout
Being on a public platform, be extremely friendly with customers
Conclusion
Over 50% of customers have always ranked agent attitude as a key factor in building brand preferences. You cannot keep your customers locked in but to make them appreciate your efforts, it is important to cater to their needs from their perspective. Customer service etiquette, therefore, is a binding force that the agents have to follow to keep the customers close, happy, and satisfied.
Categories: