Corporate Wiki V/S Knowledge Management: Which Is Best To Share Knowledge?
Posted On: June 24, 2020 | 13 mins read

1350 Views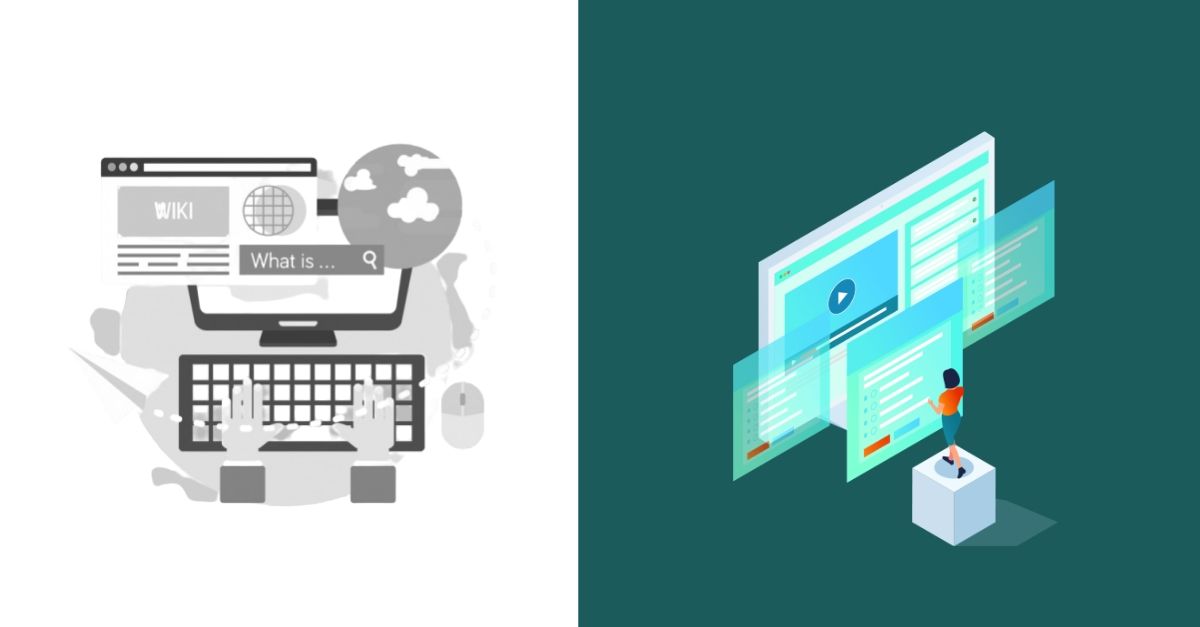 Open sources of information where the users and access holders are all free to read, create, and distribute content on free internet are called wikis. When organizations decide to publish all of its information and content over open end platforms in a manner that is not only readable but also editable by the users. Corporate wiki is a lot different as compared to a community building and discussion platform. It is a published source of information with author credits to a whole lot of users having access to editing tools.
Wiki software is thus far more bloated up in size as compared to the knowledge base of any organization.
What makes internal communication special?
Internal communication can broadly be looked upon as an igloo. Saying this might seem funny and unusual but the internal communication system becomes a guard in the same manner as an igloo guards an Eskimo against the freezing cold waves.
How?
It is for a particular region
just like a particular igloo can be used as shelter against the rough world outside, similarly, one internal communication base is meant to serve the employees and members of a particular organization only.
Hosts only certain authorized creators
An internal communication platform entertains only those creators who are authorized by the organization to add, create, delete, or edit some information over the platform.
Seen by all but accessed by few
The knowledge over the internal communication platform is open for all to view but the discretion on who sees what rests in hands of the admins and super admins thus securing it against any infiltration.
Has high-end encryption against trespassing
Cyber trespassing is not a new term in the world of data safety and internal communications. Each organization wants to maintain a certain level of secrecy. Internal communication provides safe operations to the employees thereby increasing their trust.
Survival in the realm is impossible without it
To survive in cold you essentially need an igloo shelter. Similarly, to survive in the digital and internet realm, you essentially need a secure and concrete internal communication platform where interaction is freely carried out between all teams and departments.
Replace your DEAD corporate Wiki with Knowmax
What is corporate wiki?
Corporate wiki comes with an immense advantage of allowing all the access holders to make any changes they want in any piece of information, at any time in the organizational knowledge base. Now your employee finds out an update in the tech section and realizes that you still have an old format of solution steps, the employee can directly access, edit, and upload the aforesaid piece of information with no waiting time involved to have your supervision as an expert on the subject matter.
Corporate wiki can
Allow creation and editing of knowledge to any person with access to make changes.
Be an open source of information for all the users including professional and personal ones.
Make the changes so happening come live at the readers' end with no permission grant from superiors.
Save huge chunks of repetitive research-oriented time of the agents as they can directly edit what they need on the floor.
In short, a wiki acts as a single open book for all the employees and stakeholders of the organizational knowledge to carve their imaginations to reality in real-time with no fuss of passing on emails and documents until they get approved to be put up as changes.
Role of company wiki software
Company wiki software was launched as a free website Wikipedia in 2001 and entered the list of most visited sites in 2007. It broke all records of visits and usage by 2008 being so extensively deployed by the corporate world that its content function gave it the popular name of corporate wiki.
Why corporate wiki is popular
No chain of command
Every well-established firm always follows a detailed chain of command which in turn usually slows down the process and speed of work. Any content ever uploaded has to be written, proofread, edited, verified, approved, designed, and finally uploaded. The wiki does not enforce any such chain as the content created can be directly put as live by anyone accessed to edit.
Self engagement
The agents can create their own knowledge as per their needs thus improving efficiency and increasing speed. They can create knowledge and support it with facts, images, infographics, links, figures, etc. More complaints can be wrapped up better in this way.
Easy sharing
The workspace connectivity providers usually prevent occupying a huge space on an organization's software by limiting the size of conversation and the file-sharing capacity as well. Heavy files need to be shared via mail and files exceeding 25MB size have to be shared as a link. All such complications are eroded through the use of corporate wiki just by sharing all files via links clearing all clutter.
Why you should replace corporate wiki with knowledge management software?
READ the passages above again!
With extreme freedom arrives an inevitable need to control the same. Curbing freedom or creativity is the biggest killer for employees' talents but to say that setting no bars equals liberty shall be a bigger distortion. A single open book for all does not sound like writing each chapter as wished. It rather translates to rewriting of texts and information as per one's wish and against someone else's with absolutely no authoritative boundaries to control the scribbling and chaos.
How would you feel if you go back to your house and your house help has changed the place of your furniture or the arrangement of your bookshelf or the place of kitchen boxes or anything and everything that you reach out to?
The dilution of interests and control is not the only disadvantage a corporate wiki has. It is a matter of exchange. Old technology gets obsolete and is meant to be replaced with a new and better one. It stands alone in the best interests of the organizations. To keep a business up and running, it is extremely essential that the enterprise stands in favor of the change. Running ahead of times is still affluent as compared to lagging behind and then running to level up.
Benefits of internal knowledge base
According to Haufe Lexware, the following items should be on the agenda of human resource professionals with regard to knowledge transfer:
Employee development (95%)
Process efficiency (91%)
Succession planning (88%)
Knowledge management (82%)
Employer branding (66%)
The score attained by knowledge management distinctly establishes its importance in an organization's operation and communication circuit.
According to McKinsey's research, a contact center agent spends an average of 20 per cent of their work time on searching and digging of essential knowledge to aid communication with the customers on call.
Calculated straight, it sums up to 10.8 man-hours per week per employee assuming the overall work hour of each employee is 9 hours a day working 6 days a week during peak business days.
Let us now assume that your process is handled by an efficient team of 200 support executives.
Your weekly pilferage stands at 2160 hours each week!
A good knowledge base instead is available on cloud platforms 24×7 both online and offline as well so as to prevent any such hold time built up. The agent can search for knowledge over any platform easing the resolution delivery and call time improving CSAT, CX, and SL metrics.
Here are certain benefits of an internal communication platform over an open-ended corporate wiki:
Accuracy
The knowledge being circulated through the knowledge base is extremely accurate as it is gathered from facts and filtered until the information is derived out of it. The content then created is put under the supervision of product and content experts examining it to perfection. It also eliminates any chance of agents delivering faulty solutions or misinterpreted information to the customers.
Consistency
The information in circulation should always be consistent so that it can be integrated over all channels and platforms both for the agents to use during the call and for the customers to use over self service platforms. Multiple checks being carried out by content creators, admins, and super admins makes the content apt and consistent so as to facilitate content tagging and reuse.
Pervasive
Knowledge base once created is integrated over all touch points giving an omni channel presence to the customer service from the organization's end. The consumer can reach out to an organization over any platform merely having to feed in the details and list complaint just once. If the self service platform is unable to close the complaint, it is directly transferred to the agents as tickets with present progress and status intact.
Ease of use
The website or app when created over a good internal communication platform gets all your visitors facilitated with a tour to explore the portal of self-service and the process of its usage. It eliminates any hurdles the user might otherwise face while operating. This pre-assumption of problems and their solution makes access to agent service easy as well.
Availability
Knowledge management is distributed over all touchpoints that can be accessed all the time thus lifting any restrictions towards getting a problem solved during man-hours only. Assistance to a person through a bot is also provided further helping a user get over a bumper if hit at all. This eases a lot of operational difficulties as petty query tickets get eliminated at primary levels thus leaving agents with complicated ones only.
Conclusion
Did you know that the average new employee wastes up to 200 unproductive work hours due to poor training?
With a good and secure knowledge management software, you cannot just improve your agent quality but also concentrate on organization health. Compared to a corporate wiki, the 'liberty under control' might be the best motto to leverage the benefits of employees. With proper supervision, it is also made sure that the content that goes online is apt and concise enough to generate confidence from all the users and not just the ones who create it.
All in all, technology shall keep progressing and the days might not be far when the offices shall switch from internal knowledge base to something better. But till then, switching from the corporate wiki is a better idea than banging your heads against the walls when it comes to secrecy, conciseness, and accuracy of your content table.
Categories: