Customer experience is a vital metric for evaluating call centers' efficiency and cloud-based scripting platforms can be a helping hand. Customer experience is driven by the interaction between a consumer and a support agent. For an agent, the script or a knowledge base is his bible.
This Knowledge Base contains comprehensive information and data about the service or the product. It also has interaction pathways, upcoming queries customers might ask, and in-depth details of the product/service covering common questions, common complaints from the past, and visual guides to help the agents.
A good Knowledge base guides agents through various approaches and visual elements, it also uses decision trees to draft a sturdy script that covers multiple aspects of any interaction a consumer might have with an agent. Decision trees help in covering all bases for agents and also prepares them to be ready for any unexpected questions.
Good customer support is paramount for customer loyalty, customer retention, and greater brand awareness. A study by Microsoft revealed that around 58% of customers believed customer service is an essential factor affecting their brand choice. In comparison, more than 60% of consumers confirmed to stop using a service or product due to poor customer service. (Source)
Businesses are also taking consumer support as a primary objective to fulfill. More than 80% of companies identified scope for improvement in their customer interaction. Around 62% of organizations believe that customers consider ease of interaction a top priority while dealing with agents.
Knowledge base guide to manage customer support & agent productivity
Download now
Pain points faced by agents
Customer agents rely heavily on scripts to walk them seamlessly through a customer's problem. The more complex, cluttered, or unorganized a script is, the more difficult it becomes for the agent to find a quick resolution. Comprehensive Knowledge management that thoroughly covers all the relevant information together and displays it to the agent in a structured manner helps agents focus more on the customer experience and other tasks.
Poor Script leads to multiple issues affecting the efficiency and productivity of call centers. It deteriorates call center service levels and leads to longer wait times and lower customer experience (CX) scores. Bad scripts could lead to an unnecessary clutter of customers' calls and add to the stress and fatigue of agents. Lousy scripts also lead to poor first contact resolution.
How cloud-based scripting platforms can be leveraged to solve agent's problems?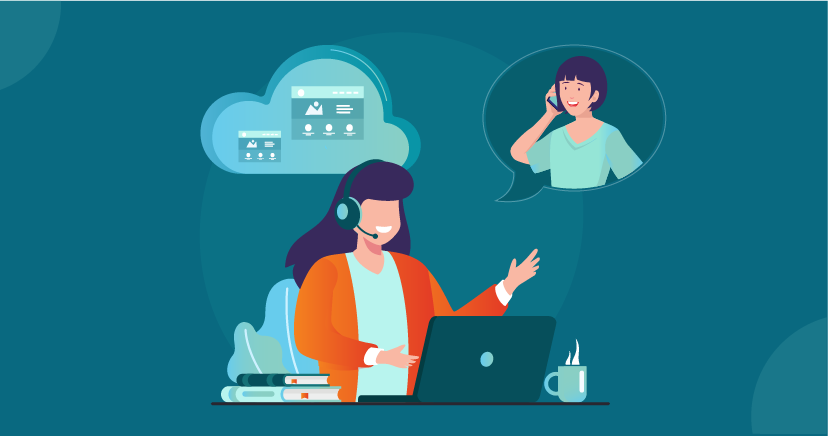 Call centers are ever more using cloud-based scripting platforms. Cloud-based Call-center talk scripts have imminent benefits. They help agents efficiently manage customer support and improve productivity.
Omnichannel support ensures that the consumer's context isn't lost with a support medium or platform change. Cloud-based scripts are easier to handle, edit and update. They are also easy to share among agents. They offer a unified support experience regardless of the agent operating the customer.
Then v/s now
Call-center scripting has evolved drastically. Not long ago, there was a time when agents had to scroll through several pages to find answers for their customers. With rapid digitalization and technological advancements, it's become easier to develop and store scripts.
Today, there is countless call-center scripting software in the market, offering cutting-edge technology to build a great and sturdy script. Companies are taking advantage of Artificial Intelligence to develop robust scripts which can guide agents throughout the interaction and provide multiple approaches to handle any consumer.
Our Knowledge management system ensures at least 21% improvement in first call resolution with visual how-to device guides. You can empower your agents in their digital adoption with visual how-to device guides and information that they need while troubleshooting complex customer interactions.
Intelligent visual assistance ensures the best for service agents and users by allowing for faster and efficient resolutions using interactive, self-service visual components of knowledge management systems. A Knowledge Management system can help in transforming your business's revenues.
Our omnichannel system reduces average hold time by 30% and support costs by 15-20%. New agents' onboarding and training time are reduced by almost 30%, facilitating quick engagements and better productivity.
Conclusion
While there are many call center scripting options to choose from in the market, we have seen features that an excellent cloud-based scripting tool must-have. A scripting tool that keeps omnichannel support in high regard, creates interactive guided workflows for accurate resolution and process implementation, improves customer's journey with the help of decision trees, and offers improved first-call resolution can help vitalize customer experience and call-center service levels.
Categories: